Slade's Bar & Grill changes hands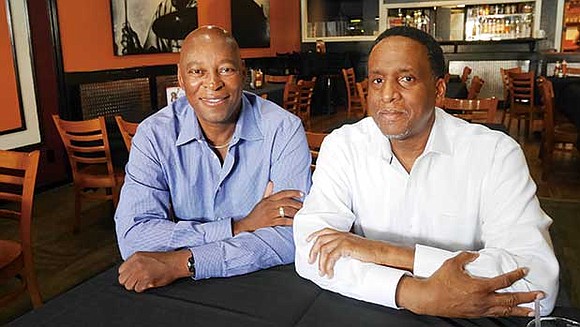 "For people of color, there are no outlets in the city," Settles says. "I could let you choose 10 restaurants downtown for lunch, and we would not see 10 people of color in any of the restaurants." He characterizes Slade's, in existence for more than 80 years, as a "safe, open environment where everyone is welcome," with the small caveat "as long as they behave."
He and Calloway both are founding members of the Black Economic Council of Massachusetts (BECMA), formed in 2015 with a mission to advance the economic well-being of Massachusetts black businesses, black residents and organizations serving the black community.
Entertainment lineup
Slade's will continue to offer nightly entertainment, including Calloway's 30+ Saturdays series, Wednesday night comedy hosted by Jonathan Gates and Monday Night Football viewing. Tuesdays will continue to be old school music nights, anchored by pianist Frank Wilkins and his WeJazzUp band. Longtime hostess Kaicee King presides over what Wilkins calls a "jam session for vocalists," giving aspiring singers a chance to perform with a live back-up band.
Wilkins tells the Banner the open mic evening draws all ages. He has seen teen musicians that came in with their families to sit in with the band and later went on to win scholarships to Berklee College of Music. At the other end of the spectrum, he recalls a patron celebrating his 101st birthday with relatives and friends.
"It's a wonderful community gathering, with people from all over coming to listen to the music and enjoy the food," Wilkins says. "The menu is fantastic — the best soul food in New England."
Wilkins is one of the regulars who's glad to hear that new ownership doesn't mean dramatic changes.
"[Settles and I] had conversations, particularly around the entertaining," he says. "We built this community, and I wouldn't want to see anything that changes the clientele."