Bill aims for equity in access to solar
Financial incentives for solar energy less available to low-income communities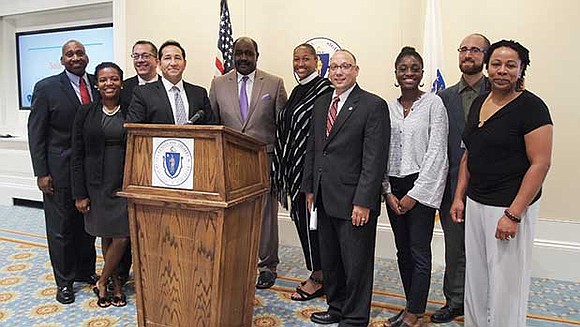 Racial-environmental collaboration
Low-income and otherwise marginalized communities and environmentalism are intertwined, said several speakers at an information session for the new solar bills. In part, that is because those communities often are especially vulnerable to impacts of environmental issues such as climate change and extreme weather, said Sen. Sonia Chang-Diaz.
Additionally, low-income communities could benefit most from more affordable energy — something that renewable, environmentally-friendly energy generation offers, said White-Hammond. Yet often low-income residents are blocked due to financial reasons, reasons such as credit score requirements or due to the 2016 cut to financial support that otherwise could help offset initial costs of setting up a solar energy producing system. She noted that the new solar legislation is the first environmental bill to be sponsored by the Black and Latino Caucus, that that she hopes it leads to more collaboration.
Price said that too often, his community is left out, including from getting information on environmental projects and solar energy incentives. Maria Fortes, an organizer with the Coalition of Social Justice, said that during outreach to Spanish- and Cape Verdean-speaking immigrants on the South Shore, she found many are interested in renewable energy but blocked by lack of materials supplied in their languages.
The changes to financial support made in the 2016 energy legislation also may reflect who has political power. Isaac Baker, co-president of Resident Energy, said he believes municipalities and those who represent homeowners had the lobbying clout that low-income communities lacked, and therefore were able to secure exemptions from the reimbursement cut.
"Low-income communities did not get that benefit because they did not have the same presence around the table," Baker said.

Sen. Jamie Eldridge agreed that those without strong political or lobbying presence at the State House appeared to have lost out, and he called the 2016 bill embarrassing.
"We're all paying into these incentives in our electric bills, yet more often than not, middle-income communities — communities in my district — are benefitting more than low-income communities of color," he said.
The bills
The proposed bills would provide low- and moderate-income residents and renters with similar compensation rates to homeowners when they buy into solar projects in low- to moderate-income communities and communities in which at least a quarter of the population is minority or lacks English language proficiency. Any future solar incentive compensation program would be required to have an equity component as well.
Sen. Chang-Diaz says the bills are among several pieces of legislation targeted at giving agency and protection to low-income communities in the face of climate change.
Ben Underwood, Resident Energy co-president, said the House and Senate bill would make significant difference.
"This bill would make it possible to do those larger projects moving forward," Underwood said.
A legislative hearing on solar energy will be held on October 3.