Bill aims for equity in access to solar
Financial incentives for solar energy less available to low-income communities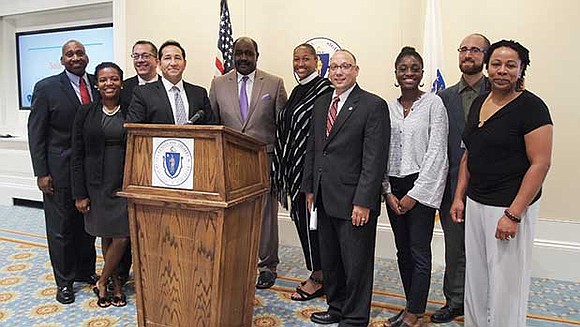 Black and Latino lawmakers have teamed up with environmental advocates to tackle a piece of 2016 legislation that they say created a barrier for on low-income renters who seek cheaper, cleaner energy. To fix this, the Black and Latino Legislative Caucus and the Green Justice Coalition are pushing for solar equity bills. The senate version of the bill is sponsored by Sen. Sonia Chang-Diaz, the house version by Rep. Russell Holmes and Rep. Michelle DuBois.
Solar incentives
In 2016, the state Legislature passed a compromise law, attempting to balance the needs of utility companies with the needs of solar advocates. Many solar projects rely on incentives to offset start-up costs or make the switch to solar appealing. One piece of this is a policy known as "Solar Renewable Energy Credits" or "SREC," under which those who produce their own renewable energy can receive payment from the utility company in exchange for the company counting the green energy the consumers produced as their own. Under "net metering," customers who produce renewable energy get a credit off their energy bill if they produce more than they use.
But there is a cap on how many large-scale projects utility companies will reimburse — and that cap was reached in 2015. As such, many groups were due to lose a major financial incentive for installing solar panels, which sent legislators back to the drawing board.
The new April 2016 law raised the cap, but at the same time reduced the reimbursement rate for many projects by 40 percent. Exemptions were granted, letting government-owned projects and small residential projects keep the original reimbursement rate. But those who saw their compensation drop include community projects and renters who aimed to buy into a system and receive renewable energy they did not personally produce.
Unintended damages
That legislative policy change nearly killed an attempt by three churches in Dorchester, the South End and Jamaica Plain to team up and generate solar energy for local residents. Five years ago, leaders of churches that are near high-poverty level census tracts came together and created a plan to make use of their large roofs to generate renewable energy, and then provide the surplus to the community for a low price.
"We have the space that some do not," said Pastor Victor Price of Second Church in Dorchester. "Such a large roof that can produce so much, yet so many in our community are unable to meet their monthly payments for electricity."
But by the time the church leaders were at the point of installing solar panels, policy around it changed, threatening its economic viability. Church leaders could no longer afford to fully cover the roofs, due both to a reduction to the net metering incentives and to rules around what type of electricity hookup could be used, said Rev. Mariama White-Hammond of Bethel AME Church. The scale-back reduced energy production to one-half or one-third of the original plan.
"Originally we thought we would be able to give 50 percent of the energy away," she said.