1st Armor security firm emphasizes local hiring, community relations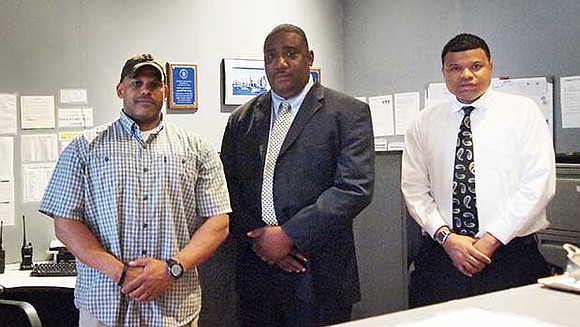 Growing company
Celester is a former police detective with 17 years on the Youth Violence Strike Force or "gang unit," which helped him build relationships with members of the BPD and with teens, upon which he now draws in this work. Due to a medical issue affecting his heart, Celester had to retire from the BPD, but was not ready to give up the work.
"I wasn't done being a police officer, he said.
In 2013, he co-founded 1st Armor with Aisha Yasin, a former community organizer, liaison and nonprofit consultant with experience in youth empowerment and community-police relations. The team started with 20 employees and has grown since to about 100. The 1st Armor security team includes 55 special officers and 45 uniformed officers, deployed according to unarmed services such as night watch, and storefront security that calls for concierge-type and armed services. With a citywide scope and transportation fleet comprising ten cruisers, one van and 12 bikes, each night 1st Armor has several cars on patrol.

When it was founded, the firm hired its first employees from a security company that was going out of business, Celester said. They also helped those they couldn't hire secure training and other jobs.

The company's first contract was a St. Joseph's housing property, where there were reports of youth violence. On the company's first day, a youth shot another kid and 1st Armor officers worked with the BPD to make nine arrests and collect three guns, Celester recalled. After that incident, Celester held a cookout and, unarmed and wearing jeans, met with the teens to talk about issues they were experiencing. He said he knew some of them from his policing days and told them they didn't need guns, that 1st Armor would protect them. Since then, there have been no problems, Celester said.
Hiring
Both Breveleri and Celester described their officer force as linguistically and racially diverse, which are important assets for connecting with the communities they serve.
Another quality that sets them apart, they said, is the extent to which the company offers upward career mobility. Patrol officers can advance to management positions and the company trains interested parties to become special officers. A number of employees have gone on to join the BPD.