First African American stars as 'Phantom'
Colette Greenstein | 9/13/2017, 1:14 p.m.
Actor, singer and performer Derrick Davis was born into a non-musical family. So much so that he laughingly responds when asked the familiar question, "Do you come from a musical family?" with, "Not at all." He continues, "We often joke that God got tired of hearing everybody in my family sing until he gave me a voice."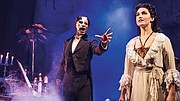 On the Web
Tickets for "Phantom of the Opera" can be purchased online at www.BroadwayInBoston.com; by calling Ticketmaster at 800-982-2787; or in person at the Boston Opera House Box Office, located at 539 Washington St., Boston.
Davis, who began acting in local church plays in Long Island, New York, stars as the Phantom in producer Cameron Mackintosh's striking new production of Andrew Lloyd Webber's "Phantom of the Opera," which is currently playing at the Boston Opera House through Oct. 1. The Tony Award-winning musical includes newly reinvented staging, stunning scenic design and a cast and orchestra of 52, making it one of the largest productions on tour in North America.
The multi-talented performer, who studied opera in college, is the first African American to play the legendary character on tour, and the third within the entire production, including Broadway. It's a moment in time that has come full circle for Davis. "Phantom" is the first show that his parents took him to see as a child, and it's where he first fell in love with theater. "It's humbling to think that I could dream something and work hard enough to actually achieve the dream that I had, and to be able to play the role that mystified me and really set me on a path to this career, to be able to now step into the role I play, is truly just an overwhelming sensation," says Davis.
The actor, who spoke to the Banner recently, talks about the challenges of the role and what it means to follow in the footsteps of fellow actors Robert Guillaume and Norm Lewis.
What has been the most challenging aspect of portraying the Phantom?
Derrick Davis: The most challenging aspect has been, I guess, just the stamina that it takes to be able to give the emotion and the energy required to tell this story properly eight times a week. If you get a chance to see me perform it, I perform it in a way that is just very honest and raw, and very aggressive when it needs to be aggressive, and loving when it needs to be loving — as so many others have. It takes a lot out of you, and performing and giving 100 percent. As I've said before in interviews, I had a director in New York once that told me whenever you get on the stage "you have to give 110 percent of yourself because someone is seeing theater for the first time and someone is seeing theater for the last time," and that motivates me, especially the person who is seeing theater for the first-time, because that was the show that I saw for the first time that gave me this career. I'm very cognizant of that, and that is the more challenging thing to bring 100 percent every day.