Building a local economy
Ujima Project aims to put economic control in neighborhood hands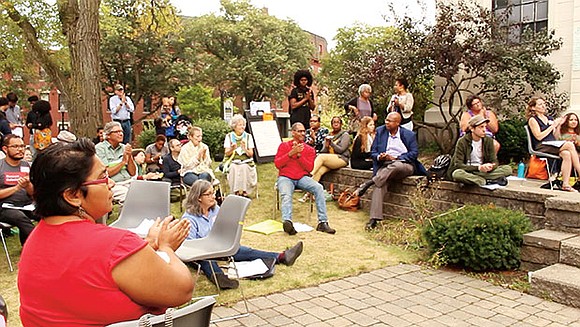 "We thought we needed to knit these models together," Evans explained, "so the individual models can be stronger, and the system is more than the sum of its parts."
Besides the community capital fund, part of the Ujima Project plan is to recognize and certify local businesses if they fit the community standards that members of Ujima will decide on together. The standards will consider business practices such as living wages, inclusive hiring, CORI-friendly hiring, environmental impact and affordability. These Ujima-certified "Good Businesses" will be eligible to join Ujima's Business Alliance to gain access to capital, technical assistance and support from the community.
The Ujima Project will support the recognized Good Businesses with an alternative electronic "currency" that offers discounts to encourage customers to buy from them.
A new economy?
In addition, a skills- and time-share bank will allow individuals to trade skills and labor with neighbors on an hour-to-hour exchange. A worker services network will help employees of small businesses gain access to essential benefits, from group health insurance to workplace mediation services.
The "Dreaming Wild" opening program included a talk by Ed Whitfield, co-managing director of the Fund for Democratic Communities in Greensboro, North Carolina. The longtime activist for justice, anti-war and community causes put the importance of community control of capital in strong terms as an issue of freedom.
"We have an economy that's not granting us human agency and happiness," he said. "A handful of people can legally own and control the very things people need to stay alive. And we're basically told there's no alternative."
But Whitfield believes there are alternatives.
"Freedom is possible," he said. "It is possible that people can be in control of the products of their own labor." He sees promise in "these new, creative, innovative, democratic ways to create that access within the community, so that people who have ideas on meeting needs and elevating the quality of life are able to utilize that wealth for those purposes."