District 1 candidates face off in East Boston forum
Development, affordable housing, crime, traffic among issues discussed
Karen Morales | 9/7/2017, 6 a.m.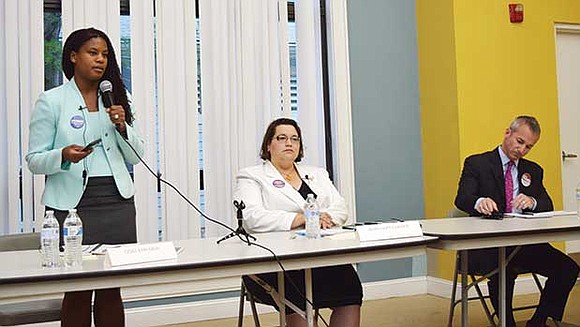 Candidates for the District 1 Boston City Council seat participated in a public forum in East Boston last week to answer constituents' questions about where they stand on local issues. Currently running for the seat are Margaret Farmer, Lydia Edwards and Stephen Passacantilli.
The candidates discussed a wide range of topics, including climate change preparation, police body cameras, bicycling, affordable housing, gang violence and public education. The event was moderated by Marcela Garcia of the Boston Globe.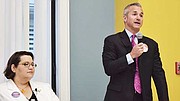 Cimate preparedness
In light of Hurricane Harvey and the extreme flooding that occurred in Texas, local residents asked each candidate how they would protect East Boston, a neighborhood abutting the Boston Harbor, from experiencing the same fate. All three candidates agreed that climate change could increase dangerous weather situations in East Boston. Passacantilli said that the city is already moving in the right direction with its current Climate Action Plan.
Farmer and Edwards said that there needs to be more pressure on developers and architects to include design measures that would protect buildings from possible flooding.
"The situation in Houston is a warning sign for us. It is a very real possibility," said Edwards.
Housing
Many of the residents of District 1, which incudes East Boston, Charlestown and the North End, asked the candidates to talk about affordable housing, a growing concern in a rapidly developing area like East Boston. When asked how they would increase affordable housing options and what they think affordable means, Edwards said, "This issue sets the stage on how our platforms differ from one another."
Edwards said she would make sure Boston continues to have a middle class. To do this, she would have neighborhood associations support residents, reduce taxes to incentivize small property ownership, and increase the minimum percentage of affordable units in new developments.
Farmer emphasized that she would apply more pressure on local developers, and Passacantilli related his own family's struggle with making ends meet as tenants in the North End, noting that senior citizens are even more threatened by rising housing costs because they survive on a fixed income.
On a related topic, constituents asked how the candidates would deal with the growing number of Airbnb hosts in the area. Farmer said that Airbnb units are one of the reasons why rental properties are high in Boston, and that they should be regulated and taxed.
"They are basically hotels. The city wants to use them to attract more luxury development," she said.
"I wish Airbnb would go away," said Passacantilli. The director of operations for the Boston Transportation Department said he sees Airbnb units in the North End all the time, and doesn't like that he doesn't know who comes and goes in his neighborhood, especially as a father of young children.
"Airbnb dictates the market but also makes the neighborhood less of a community," he said.
Edwards had a more balanced view on the issue, although not entirely forgiving of Airbnb. She said she believes the online platform for short-term lease and rental is connected to the absentee landlord issue in the city, with new units being built but not occupied. Landlords simply own them, like housing stock.