Boston Workers, advocates rally for unions, pay
Fast food strike, march mark Labor Day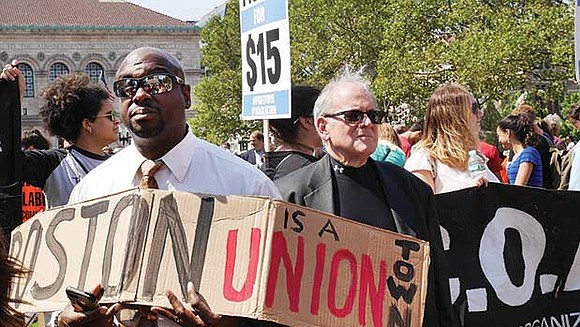 Since launching in fall 2012, the Fight for $15 campaign says, "by convincing everyone from voters to politicians to corporations to raise pay," the campaign has succeeded in spurring wage hikes totaling more than $62 billion for 22 million underpaid workers, including more than 10 million who are on their way to $15 an hour.
"Workers have taken what many viewed as an outlandish proposition — $15 an hour — and made it the new labor standard" in such cities as New York, California, Seattle, Washington, D.C. and Minneapolis, according to a press release from organizers of Boston's Labor Day strike and rally. Home care workers in Massachusetts and Oregon won $15 an hour statewide minimum wages, and companies including Facebook, Aetna, Amalgamated Bank, JP Morgan Chase and Nationwide Insurance have raised pay to $15 an hour or higher, the statement noted.
In Copley Square on Monday, Johnny McInnis, political director for the Boston Teachers Union, held a wide hand-lettered cardboard sign reading "Boston is a union town." BTU was among a long list of unions and other groups participating in the day's actions, including SEIU 32BJ and other SEIU locals, the Coalition for Social Justice, Jobs With Justice, Moral Movement MA, City Life/Vita Urbana and Raise Up Massachusetts.