Exercise: both trigger and treatment for asthma
10/31/2017, 9:15 a.m.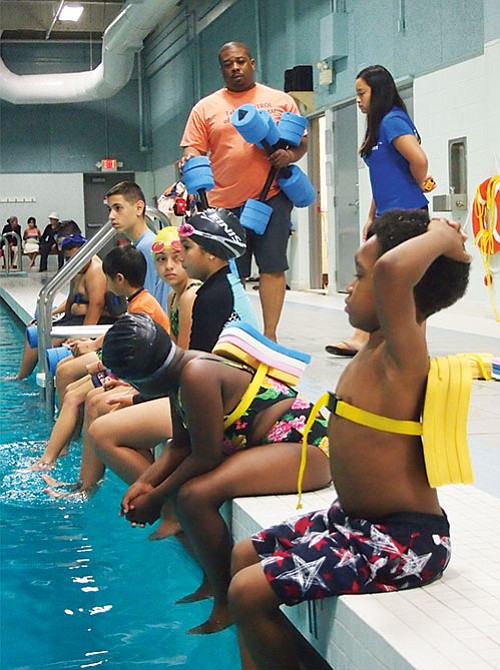 You don't have to explain that to Dirk Bovell. He has asthma and learned to swim in elementary school. Although he admits that football was his first love, the weather was too cold for him, and caused him to resort to his asthma pump. Swimming, however, increased his lung capacity, he explained.
As a youth he said he was discouraged from sports because of his asthma. It's a good thing he didn't listen. The water is Bovell's domain. He is a certified lifeguard, a lifeguard instructor and an American Red Cross instructor. He is the aquatic coordinator and head swim coach at DotHouse Health in Dorchester. But on Saturdays, his second calling comes into play.
Tips to prevent a flare-up during exercise
Warm up before exercising and cool down afterwards
Start gradually
Wear a face mask or scarf when exercising in cold or dry weather. This warms the air you breathe.
Breathe through the nose instead of the mouth
Stay hydrated
Avoid strenuous exercise if you have a respiratory infection
Take medicine before exercise if recommended by your doctor
Bovell is the program manager of the Boston Asthma Swim Program for Boston Children's Hospital. Each session lasts for 10 weeks and can accommodate 15 kids between the ages of 8 and 12. The program has two parts. First is the classroom. Bovell teaches the students and their parents about asthma, its medications and triggers — all to help them understand the disease better.
Then comes the fun part — finally getting into the pool. For some, however, initially it's not that much fun. "They might have had a bad experience," he explained, and are fearful of the water. "Emotion is a trigger. The brain can take you to the yellow zone," he said, referring to a period of increased symptoms. The yellow zone is a warning that, without a remedy, the situation can become an emergency.
Several of the participants use rescue inhalers before the class to prevent an attack. If they need help with their inhaler, Bovell can assist. He has had personal experience.
The program has many successes. The kids learn to control their asthma; they overcome their fear and learn to swim. No one has ever suffered an attack while in the water. Some of the students excel in swimming to the point that they join the DotHouse Health Stingrays, a USA registered swim team in the New England Swimming LSC. Each Local Swimming Committee is a member of USA Swimming, which is charged with selecting the United States Olympic Swim team. Who knows? There might be another Greg Louganis in the making.
The program's success has one downside, though. "Now the problem is getting the kids out of the water," Bovell said.