MFA exhibits invite viewers to slow down, pay attention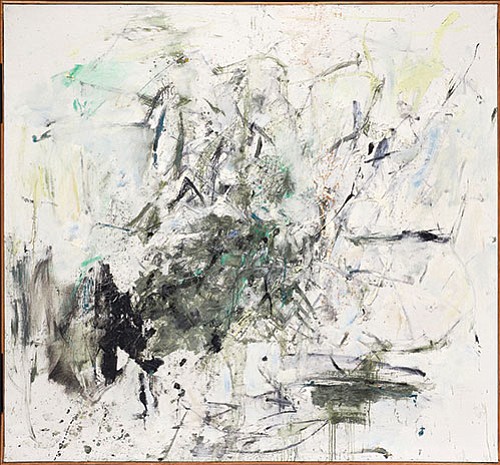 Drawing on the MFA's rich collections of Asian art, the gallery shows traditional Chinese renderings of mountain scenes, from mural-size paintings on silk and miniatures carved in stone and wood to prized found objects, rocks that resemble mountains and bring the contemplation of a mountain scene into the home. Dominating the gallery is a large contemporary version by Zhan Wang, "Artificial Rock #85" (2005) a gleaming tower of chrome-plated stainless steel.
Edward Weston (1886–1958) photographed the dunes, rocks and tree stumps of California's coasts and deserts with his large format camera, and his black-and-white close-ups of their patterns and textures render nature's own abstractions.
Another American, Joan Mitchell (1925–1992), captures the raw power of the landscape surrounding her retreat in the French Alps in her abstract painting "Chamonix" (about 1962), which is accompanied by her comment, "I could certainly never mirror nature. I would like more to paint what it leaves with me."

The smallest works in the gallery, and among the most alluring, are a delicate Chinese porcelain dish (1723–35), and a tiny treasure from the late classical period of the Maya (550–850 AD) — a paint container carved out of a conch shell that fits into the user's hand.

"Ice Drawings," a sensational installation in its own small gallery, conjures segments of a renowned long-form performance, "Reanimation," by Joan Jonas, professor emeritus at MIT. Jonas debuted the work in 2013 and performed it for the first time in Boston at the MFA in 2014, accompanied by her musical collaborator, pianist Jason Moran. Inspired by the 1968 novel "Under the Glacier," by Icelandic author Halldór Laxness, the work is a poetic response to climate change. While a row of dangling crystals casts prisms of light on the screen, a video shifts between scenes of glacial landscapes and Jonas rapidly drawing abstract shapes with black ink and melting ice cubes.
Any good journey prompts a detour, and a fine one awaits a visitor willing to briefly exit this exhibition and go to a gallery by the main staircase, where a three-part sculpture by Nishida Jun (1977–2005) is on view. His baked porcelain and powdered glaze forms echo processes as violent and strenuous as nature's own convulsions, and evoke ancient human and geological history. The sculpture's columnar segments resemble fragments of classical Greek statuary and its raw, unfired portions call to mind volcanic fissures, molten earth and swirls of petrified rock.

Then return for the majestic Rothkos displayed in the fourth gallery, chosen by Elliot Bostwick Davis, chair of the MFA's Art of the Americas department, whose stirring overview of the show is online. The 11 paintings span all stages of Rothko's career and follow his drive to create art that brings viewers into a profound emotional and even religious experience, a desire that led him to abandon representation for increasingly abstract works.
A curious, touching self-portrait of Rothko in his 30s is displayed next to a painting by his idol, Rembrandt (1606-1669). In both, an artist gazes at an easel, a tool of his trade.