Few people of color lead nonprofits, and bias is to blame, says report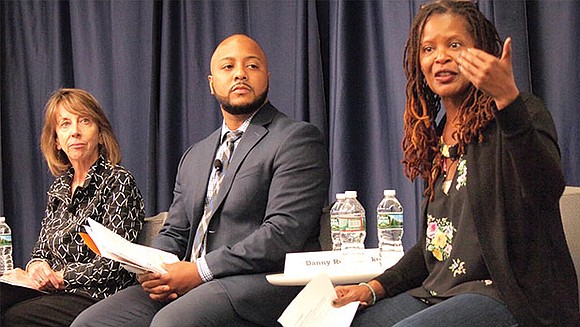 This creates additional burdens on minority-led organizations, as with less funding, they tend to be smaller and their executive directors need to take on extra work such as hosting events and writing grants in addition to running the organization, Jackson said.
Organizational need
Shaheer Mustafa, CEO of Hopewell (formerly Dare Family Services) has a staff that is 50 percent of color and a management team that is 80 percent of color. Achieving diversity relies on framing it as a business imperative, he said. For instance, organizations that cannot reach, recruit and retain people of color miss out on some of the top talent as well as the variety of perspectives that leads to creative problem solving.
"Values are not enough," Mustafa said. "Those organization that are effective at diversity, inclusion and equity are those than can effectively articulate a business case."
Several speakers also noted that any organization seeking to serve communities of color risks being tone deaf and less informed if it does not have people of color among the decision makers.
Real solutions
The report's findings point to a need to shift solution strategies from training individual candidates of color to training existing leadership and providing new organization offerings. These include helping board members to identify their own biases before making hiring decisions and extending mentorship supports to new leaders of color, report authors said.
One approach starts with awareness and open conversation. Deborah Re's Big Sisters Association of Greater Boston primarily serves girls of color but several years ago found that only 20 percent of the big sister mentors and only 17 percent of the organization staff at the time were people of color. The nonprofit has jumped to 40 percent staff of color after an active examination of their hiring process and image. Methods included explicitly stating online that the organization seeks candidates of color; reassessing hiring questions to ensure they measure skills such as understanding of Boston history and cultural competency; creating a diversity council with community members; dropping a master's in social work requirement that leaders determined to be unnecessary; and examining whether the organization creates an environment that would retain employees of color, for example considering what types of messages are sent by images present in the offices and by celebration of holidays like Columbus Day. Re said she seeks to create an environment where it is easy for people to speak out if they find something offensive and encourages regular conversations on experiences within the organization.
Jackson underscored the importance of ensuring that people of color in an organization have opportunities to actively engage and be included, not simply to be made a "diversity presence." In addition, she said, the model of what leadership looks like needs to be expanded beyond the stereotype of a formally-educated, independently-acting white western male.
Danny Rojas, director of postsecondary partnerships for OneGoal, said his organization's approach includes offering affinity groups — such as a men of color group or a Christian group — that regularly meet, as well as providing every new hire with a mentor to provide support throughout their career at OneGoal and fostering conversation about concerns and experiences of employees.