Basic Black continues 50-year-old legacy at WGBH
Say Brother was first-in-the nation black-run broadcast news program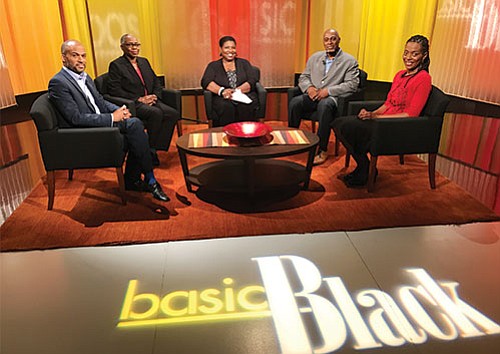 In April 1968, as America's cities had been rocked by rioting and unrest and were bracing for more in the wake of the assassination of Rev. Martin Luther King, Jr., civic leaders were asking, "What can we do?"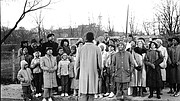 Boston Mayor Kevin White asked people to stay home, fearing a riot. Then he asked that WGBH to televise a previously-scheduled James Brown concert, and the station executives complied.
That broadcast is widely seen as the impetus for "Say Brother," a black-themed news and culture program that launched nearly 50 years ago and continues to broadcast under the name "Basic Black."
Earlier this month, "Basic Black" launched its 50th season. With divisive politics and a resurgence of white nationalism playing on the national level, and flare ups of racial tensions in Fenway Park bringing the race discussion to the fore locally, the academics, journalists and agency heads who regularly appear on the show have an abundance of material.
The show's current format, however, contrasts sharply with its early years, when it interspersed commentary with live footage from around the city's black community and live performances by the likes of Curtis Mayfield and Parliament.
"Everybody who was anybody wanted to get on "Say Brother" because that was the first black news show in the country," said Barbara Barrow Murray, who came on as a production assistant in 1972 and worked as a producer on the show from 1976 to 1985. "The model was a program by, for and about the black community."
Among the luminaries appearing on "Say Brother" were Mario Van Peebles, Muhammad Ali, Miriam Makeba and Eartha Kitt. The show covered local, national and international news events — with interviewees representing Puerto Rican independentistas, the African Party for the Liberation of Guinea and Cape Verde, the Eritrean People's Liberation Front and the African National Congress.
The raw, unfiltered representations of the black community got a little too real in 1970, when "Say Brother" producer Ray Robinson aired a 90-minute episode on a black community uprising in New Bedford without editing out the curse words interview subjects used to describe the hopelessness they were experiencing in the South Coast city.
"Say Brother" briefly disappeared from the airwaves and Robinson was fired, but the show was reinstated several months later, continuing with an in-studio interview format. Retired journalist Sarah-Ann Shaw, who reported for WBZ-TV 4 beginning in 1969, says the '70s were somewhat of a golden era for blacks in broadcast media.
"Channel 7 and 5 and 4 had black shows," she said. "We were better represented on television then than we are now."
Barrow Murray left the show in 1985, and insists that in its current form and with its current name — Basic Black — the show is a far cry from its earlier iteration.
"When they changed the name, they lost the identity," she says.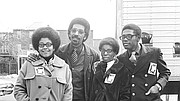 Basic Black
In its current form, the show follows a more traditional news talk show format. Hosts are drawn from the ranks of black newscasters.