Walsh unveils bid for Amazon HQ
Rox parcels among proposed sites; pitch puts tax incentives on the table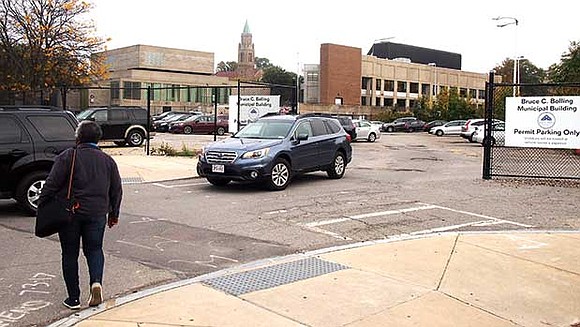 Roxbury
Both the city and state pitches identify "the Harrison Albany Corridor," which contains Roxbury parcels, as an alternative headquarters location. This area is bounded by the South End, Back Bay, Roxbury and Widett Circle. The state attributes 10 million square feet of developable land to the corridor, while the city pegs the figure at 8 million.
The state's documents laud the corridor's proximity to Logan airport as well as the Red, Silver, Orange and Green lines and to I-90 and I-93, as well as the supply within one transit stop to potential workers, including millennials (about 441,000), computer and math professionals (64,000, which beats out Suffolk Down's 36,000) and people with bachelor's or advanced degrees (over 875,000, compared to Suffolk Down's 464,000).
Under the Harrison Albany Corridor plan, Amazon would buy and build on sites in several neighborhoods, including Roxbury. These include city-owned parcel B-2 on Dudley Street, the Boston Planning and Development Agency-controlled Blair Lot on Washington Street, P-3 Partners LLC's Tremont Crossing on Tremont Street, state-owned P-8 on Melnea Cass Boulevard, Madison Park Development Corporation's P-10 on Washington Street and New Boston Food Market's Widett Circle on Foodmart Road.
The Amazon balance
Amazon's request for proposals states the new headquarters would employ up to 50,000, creating the jobs over a period of 15 to 17 years, with average salaries of $100,000. This would bring income tax revenue to the state as well as economic boost to those local residents attaining these jobs. Additionally, $5 billion in expected investments in the headquarters would bring additional property tax to the city — if the firm is not provided with significant tax cuts — and is likely to enhance Boston's reputation among tech businesses.
Meanwhile, some fear that working class, longtime Bostonians will not receive these full time Amazon jobs, which may instead go to college graduates, including many from out of town, and that Amazon jobs may attract more newcomers to the city, exacerbating its housing crunch. In Seattle, Amazon's headquarters city, housing costs rose sharply over the past decade, sparking concerns that people not engaged in the tech industry are being pushed out.
Northeastern University professor Peter Enrich and Noah Berger, executive director of Massachusetts Budget and Policy Center, previously told the Banner that any offer to Amazon should focus on things that will bring long-lasting, widespread benefits — such as transportation improvements — over any generous tax breaks to this one specific firm.