NAACP: Walsh failing to meet campaign promises
Little improvement for communities of color under Walsh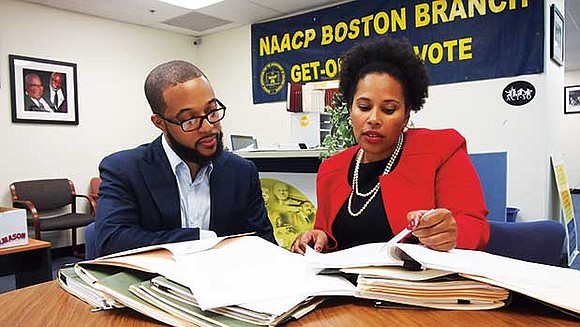 Education: C grade
Walsh "consistently underfunded the Boston Public Schools," and the frequently cited excuse that there are structural inefficiencies is "not a sufficient reason to miss the mark on fully funding our children's education," report authors said.
While the Walsh administration lauds its efforts to expand pre-K seats, the NAACP authors say the expansion is too minor to lessen racial disparity in early education access. Furthermore, they noted that there has been a significant decline in the retention and recruitment of black teachers over the past decade, grading Walsh a C for effort on retaining and recruiting diverse teachers and an F for results.
Opportunity and achievement gaps
Report authors called for bolder action to address the opportunity and achievement gap, stating that BPS "must move from only theory and experimentation to implementation of practices that nurture the whole child and accelerate learning for students of color." The report also notes an increase in the number of Level 3 and 4 schools and the disproportionate number of them located in Roxbury, Dorchester and Mattapan.
Public safety: D grade Community Policing
While Walsh has praised the Boston Police Department's community policing work, the NAACP found it only C-worthy. Walsh failed to significantly strengthen the Community Ombudsman Oversight Panel, an entity whose members have requested that he replace it with a better-resourced and more powerful civilian-run Office of Police Accountability. NAACP authors also dinged Walsh for doing little to produce funding for more summer and year-round youth jobs. Additionally, the high number of unsolved homicides and shootings suggest depleted trust between community members and the police. On the positive side, the NAACP said that Walsh had made improvements in community collaboration, including creation of a Social Justice Task Force and reinstatement of the police cadet program.
The cadet program has the potential to introduce more people of color into the policing pipeline as one-third of a new recruit class can comprise cadets, thus creating a path to hiring that does not carry the state-mandated veteran preference, which has served as a major obstacle to diversity in police ranks. In the current class, 27 of the 39 cadets are of color.
Body Cameras and violence prevention
NAACP authors called out Walsh for dragging his feet on implementing a pilot program and, now that the pilot has concluded, not committing to full implementation. While the mayor scored points for creating an Office of Public Safety and launching Boston's My Brother's Keeper initiative, authors said the Office of Public Safety lacked a cohesive strategy and needed more powers and that the My Brother's Keeper program is not sufficiently codified to guarantee it will outlast this administration.
Lawsuits
The NAACP report recommends that Walsh settle current lawsuits over discriminatory practices within the BPD. While these suits were initiated against the Menino administration, Walsh continues to fight and appeal, using taxpayer dollars to do so.
In one, black officers alleged that the hair-based drug tests used by the Boston Police Department disproportionately produced false positives when testing African American hair. In 2005, a federal court of appeals ruled that the tests did have disparate impact, and in a separate lawsuit, courts in 2013 and 2014 ruled that the tests were unreliable. The city appealed in both cases.