Low MCAS scores launch dispute over test's value and use
Scores plummeted on a test typically used to decide graduation, school rank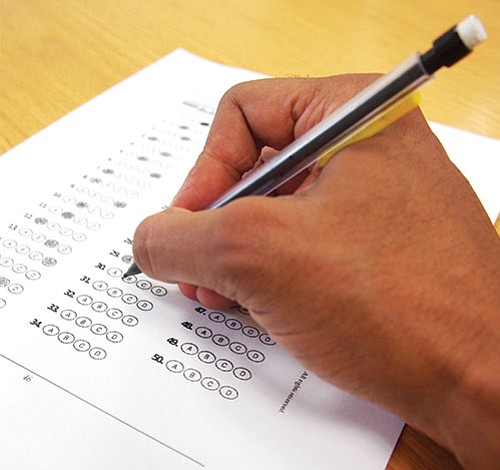 "We are starting to see gains from our work with high school math teachers to incorporate more cognitively-demanding tasks to better prepare our students to solve the complex and rigorous problems they will encounter in MCAS and in life," said BPS superintendent Tommy Chang.
Meanwhile, state Senator Pat Jehlen advised reporters that the next-generation MCAS only heightens expectations on a limited slice of skills in two subject areas, and argued that focusing on tests will necessarily deplete time from other educational practices.
"Students now read less fiction," Jehlen's office stated in an information sheet, "They practice for many years writing five-paragraph essays; professors report students have no experience writing longer research papers. "
Madeloni says the state is perpetually moving the goal post, increasingly demanding that students move faster and faster through subject matter, something she says has little true educational value.

"Instead of getting 100s, you have to get 105s. This idea that we're supposed to accelerate students more quickly through the curriculum is corrupt," Madeloni said. "It has nothing to do with more meaningful learning."
Value as an assessment
Debate over the latest MCAS score's significance largely is a debate over how the MCAS is used. According to Reville, standardized tests are rooted in equity goals and intended to ensure schools bring all students to high capability levels. While not capturing everything desirable in education, tests have a role in "taking the temperature" of a school and identifying schools or individual students that need more support.
"If we're only measuring in English, math and science, that's only a piece…but it's something. It's a basic minimum," Reville said.
Madeloni, however, says that while in a best-case scenario, a standardized test is used in the diagnostic manner Reville describes, in large part tests distract from real teaching. She does not believe standardized tests, including the new MCAS, truly assess engaged thinking or critical questioning and analysis of information, or address other critical factors of school climate and students' socioemotional skills. Too often standardized test actually reflect the socioeconomic status of the test-takers, she said.
"We don't need high-stakes testing to know where we have more students in poverty, more English Language Learner students, more students with special needs so we can go in and supply the resources that we need for those students," Madeloni said.
Teaching to the test
Jehlen says tests such as MCAS prompt schools to cut back on music, art, civics, social studies, physical education, recess and other areas in order to dedicate time to test prep and to emphasize lessons such as calculus while leaving out practicalities such as financial literacy.
Reville acknowledged that there is a prevailing fear that tests are just forced regurgitation of memorized and quickly forgotten facts, but said that in his view, the MCAS defies such concerns by demanding creative problem solving and deeper engagement.
How to respond to scores
One line of opposition to standardized test is concern that the way the state and city respond to schools with low test scores is damaging to students, not supportive. If a school's test scores drop far enough, the school may be subjected to turnaround, which in Boston thus far has led to mass dismissal of teachers, or state takeover.
Madeloni argued that schools are punished for their scores and test-taking practices, not assisted to overcome low scores. As an example she pointed to a school in Hull that dropped from level 1 to level 3 after three students opted out of taking the MCAS, even though the other students scored highly on six MCAS tests. Jehlen expressed similar views, citing others who have said that educators should not be held accountable to performance goals if the city and state fails to provide the school with sufficient funding.
Reville said that a test cannot be mistaken for an end goal, but rather as a tool to help indicate progress and where adjustments need to be made.
"[A test] is a tool. There are no real adverse consequences for students in the employment of this tool — grades 3-9 for example [where scores do not impact graduation]," Reville said. "It's incumbent upon all of us to figure out how best to use this tool and not become obsessed with it, but use it as a valuable diagnostic instrument. ...It's not a strategy for improving education, it's a measurement instrument.