Low MCAS scores launch dispute over test's value and use
Scores plummeted on a test typically used to decide graduation, school rank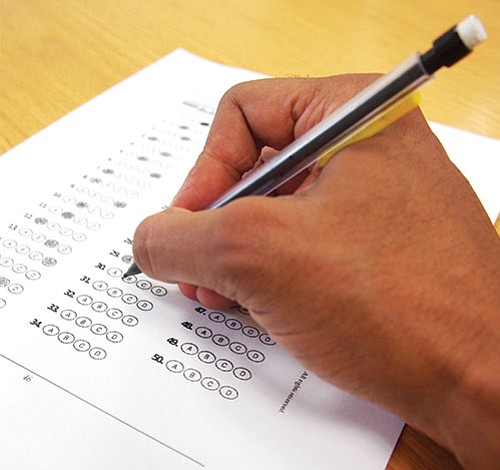 A new MCAS debuted last spring in Massachusetts schools, and student scores plunged.
MCAS scores are used in determining both students' readiness to graduate high school and schools' rankings. A new version of the test, referred to as the Next Generation MCAS, was administered to grades 3-8 for the first time.
On the Web
BPS SCORES REPORT
Some, like Paul Reville, professor of practice of educational policy and administration at the Harvard Graduate School of Education and former state secretary of education, says the latest scores suggests the new test is working. Education officials wanted a stronger assessment of student capabilities after many passed the original "legacy" MCAS only to be placed into remedial classes in college, and this next-generation MCAS seems to be holding pupils to higher standards.
"I interpret the results as an indication that the bar has been raised," Reville said.
Others, such as Massachusetts Teachers Association President Barbara Madeloni say the new test demonstrates that the state is entrenching itself in a flawed assessment system that focuses narrowly on English language arts and math, while ignoring more complex school quality factors, such as student risk-taking and confidence, creative thinking, transparency and responsiveness to the community.
"What we can draw from [the scores] is that the testing regime and tests-and-punishment regime is absurd," Madeloni said. "The idea that student learning could change that dramatically [between the legacy MCAS and next-generation MCAS] exposes that the tests are not about the actual experiences that young people are having in the classroom."
New results
According to DESE's initial projects, half of the state's tests takers failed to meet expectations. By the latest Boston Public Schools data, the city's students performed below even statewide averages.
In BPS, an average of 22 percent of students scored as "not meeting expectations" in English Language Arts (compared to 10 percent of students statewide), 47 percent partially meeting expectations (versus 41 percent statewide), 28 percent met expectations (lower than the 42 percent statewide) and 3 percent exceeded expectations (versus 7 percent statewide). Student subgroups that performed below the city average for meeting or exceeding expectations — the test's top two scoring levels — were Latinos, blacks, males, English Language learners and students with disabilities.
In math, BPS children again performed below the state average, with 24 percent not meeting expectations (compared to 12 percent statewide), 45 percent partially meeting expectations (versus 41 percent statewide), 27 percent meeting expectations (falling below the 40 percent statewide) and 4 percent exceeding expectations (compared to 8 percent statewide). Again those subgroups performing below BPS average for meeting or exceeding expectations were Latinos, blacks, males, English Language Learners or those with disabilities.
What the test says
The state Department of Elementary and Secondary Education is using these initial scores to establish a baseline and as such is not altering school rankings due to them.
Along with Reville, others believe standardized test scores demonstrate learning and are a tool to improving it. Linda Noonan, executive director of the Massachusetts Business Alliance for Education, said in a blog post that she is hopeful that the new test will certify to employers a work-readiness among high school graduates that the previous MCAS did not. BPS officials indicated a belief that the MCAS has been a useful improvement tool, and issued a statement celebrating a minor increase in math scores on the traditional grade 10 MCAS this year as an indicator that students gained new capability.