Jackson outlines mayoral platform
Highlights Boston's growing inequality
Yawu Miller | 10/25/2017, 10:45 a.m.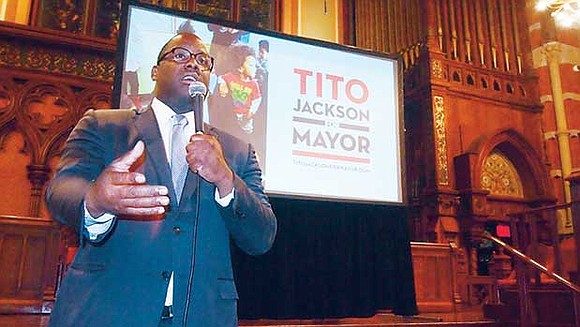 "We are not building a city that takes care of all its people," Jackson told the audience, lambasting Walsh for pursuing the city's bid to host the 2024 Olympics and an Indy Car race.
Jackson also said he would democratize city government, taking some power away from the mayor by restoring the elected school committee, among other measures.
In addition, Jackson criticized Walsh for an increase in violence in Boston under his watch, noting that there have been 168 shootings in Boston and 35 homicides as of August 30.
"There is a significant uptick in violence," he said. "We have to roll up our sleeves and deal with it."
Jackson said he would hire more police officers in order to reduce overtime spending; implement more aggressive outreach to young men involved in gun violence to offer alternatives; redeploy so-called Safe Streets teams of bicycle police; and implement body-worn cameras for police. He also voiced support of an independent, civilian-led board to investigate allegations of police misconduct.
Other initiatives Jackson said he would implement: a $15-an-hour minimum wage for Boston; the creation of 5,000 new youth summer jobs and 1,000 year-round jobs; and the implementation of a sanctuary schools program that would prevent federal immigration enforcement officers from entering BPS schools.
Many of his proposed policies, Jackson said, are aimed at one of the city's most pressing problems: inequality.
"I am moving to change the structures that have created inequality in Boston," he said.