Walsh's appeal to black, progressive voters points to shifting power in Hub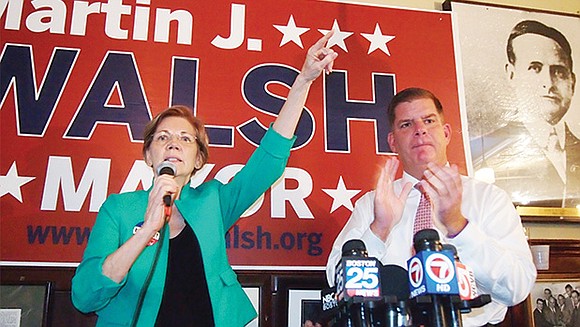 When Warren's supporters approached Elisa to ask whether he'd attend Sunday's endorsement, he declined.
"I told them I'm going to be out with the working class people who can't afford $1,700 studio apartments," he said.
Second time around
In this year's election, Walsh has nothing to fear from the communities that backed John Connolly in 2013. He won 60 percent of the preliminary election vote in East Boston to Jackson's 25 percent. In Charlestown, he won 47 percent to Jackson's 28 percent. In 2013, the well-heeled Back Bay voters backed Connolly with 76 percent of the vote. In September, Walsh walked away with 71 percent of that vote.
But in the long view, Boston's electoral map is changing. The traditional strongholds of Irish-American and Italian-Americans are losing electoral sway as their populations gentrify with young white professionals who are less likely to vote.
Take, for instance, the 2009 mayoral race in which then-at-large challengers Michael Flaherty and Sam Yoon were among those taking on longtime incumbent Thomas Menino. Citywide voter turnout had been declining and was just 21 percent (still, nearly 7 points higher than in the recent preliminary election). But traditionally Irish enclaves like West Roxbury and South Boston's Ward 6 still voted at substantially higher percentages — 33 percent and 27 percent respectively.
In that year, predominantly black Ward 12 voted only slightly higher than the average, with a turnout of 22 percent. Transient neighborhoods like the Fenway and Back Bay had turnouts of 13 percent and 12 percent. The dominant demographic in the latter two neighborhoods — students and young white professionals — are notoriously disconnected from local politics.
However, in the intervening years, as young professionals have flocked to Boston and its newly-constructed apartment complexes stacked with studio and one-bedroom apartments, the city's population has increased, but the percentage of voters participating in local elections has declined.
Take Ward 6's Precinct 1, a heavily gentrified section of South Boston that includes the residential portions of the waterfront area. That precinct saw its voter population increase from 2,489 in 2009 to 5,112 this year as new luxury condos have multiplied in the formerly industrial area. But voter turnout in the precinct was a dismal 10 percent in the Sept. 26 preliminary, underscoring the lack of participation among newcomers to the district. Turnout in all of Ward 6 was just 17 percent, lower than the 20 percent who turned out in Roxbury's Ward 12 — a reversal from the 2009 vote, when Southie voters had turnout 5 percentage points higher. That reversal illustrates the declining voter power of white ethnic voters — a trend that also played out in East Boston, where Lydia Edwards, a black woman, beat Italian-American Stephen Passacantilli by 17 percentage points, garnering 52 percent of the vote. Italian-American voters had long dominated that neighborhood. In 2007, when Latina activist Gloribel Mota ran against Italian-American longtime residents Carlo Basile and Jeffrey Drago, she won just 16 percent of the East Boston vote. Even though she came in second to Passacantilli overall, Edwards' victory in East Boston, and in Charlestown — a former stronghold of Irish American voters — signals a profound change in Boston politics.The declining turnout in traditionally white ethnic communities has shifted electoral power in the direction of the city's black and Latino communities.
Black voters still waiting
While white candidates running citywide have long appealed to communities of color for votes, their interest in black voters hasn't always translated into policies that black communities favor. Housing affordability and displacement are among the top concerns facing not only voters of color, but Bostonians in virtually every corner of the city, including the neighborhoods surrounding Doyle's Café, notes Jamaica Plain activist Horace Small.
"If 50 percent of the people in Boston make less than $35,000 a year, how on God's green earth can they afford to pay $2,000 a month in rent?" he said.
Walsh has staked much of his political capital on rebuilding the city, presiding over the very construction boom that has seen South Boston shift from a working class, predominantly Irish-American enclave to one of the city's most rapidly-gentrifying neighborhoods. As the wave of displacement moves deeper into the city's neighborhoods, Small says Walsh has done little to stop it.
"There are cities in America where mayors and city councils have strategized to slow it down," he said. "Our city is hemorrhaging people."