Walsh's appeal to black, progressive voters points to shifting power in Hub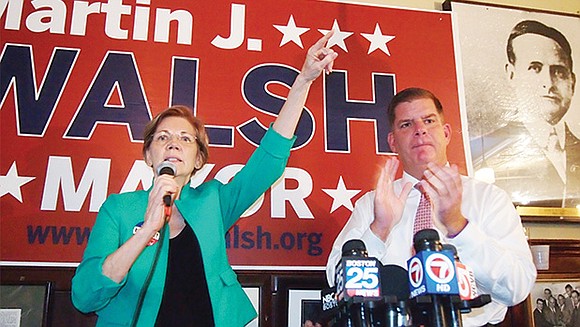 Boston Mayor Martin Walsh made a push for progressive voters on Sunday when he appeared with U.S. Senator Elizabeth Warren at Doyle's Café in Jamaica Plain for her endorsement of his reelection.
Warren praised Walsh for his resistance to President Donald Trump's Muslim ban and push to deport undocumented immigrants.
"This is not the vision Marty and I share," she said. "Marty has made it clear. He fights for a city for all of us."
Sunday's event followed a "Housing Advocates for Walsh" event held Saturday at Walsh's 315 Centre Street campaign office and a canvassing event, also in Jamaica Plain. The events, attended by local politicians, city officials and several prominent progressive activists, underscored the incumbent mayor's apparent aim to strike at Jackson's core of support in Wards 11, 12 and 19 — the three predominantly black, Latino and progressive white wards that were alone in supporting Jackson during preliminary balloting.
While Walsh held no public events in Roxbury-based Ward 12 last weekend, his campaign hit that neighborhood hard in the weeks leading up to the preliminary with phone calls, text messages and door-to-door canvasses to identify and turn out supporters. The Walsh campaign's push for votes, along with outreach from city council candidates, helped push voter turnout in that ward to 20 percent, substantially higher than the citywide average of 14 percent.
Whether Walsh is able to prevail among voters in those communities in the November final election may hinge on whether voters take more stock in progressive endorsements from officials like Warren or heed Jackson's call to look critically at the mayor's record on housing, public safety, education and other key issues.
"Walsh is smart enough to know that black people make the difference in this election," said longtime Democratic activist Louis Elisa, who is supporting Jackson. "But knowing that doesn't make him more responsive to our needs. He's taking advantage of the fact that we don't understand that our votes put him in office."
When Walsh faced off against then-at-large City Councilor John Connolly in the 2013 mayoral race, Walsh won predominantly black wards 12, 14 and 18 with leads of 17, 20 and 21 percentage-points respectively. This helped offset losses in West Roxbury, Back Bay and Charlestown.
Yet, as Elisa points out, Walsh has taken policy positions often at odds with those embraced by black activists. Black activists and elected officials have consistently called for police to be required to use body-worn cameras, for increased recruitment of black and Latino officers in the police department and for an independent, civilian-led review panel to investigate allegations of police misconduct.
But despite his success with black voters in 2013, Walsh has lagged on these demands: he has been noncommittal on the implementation of body cameras and has resisted calls for civilian oversight of police, and the numbers of blacks in the Boston Police Department has been declining.
Jackson has hit Walsh hard on issues including his backing of the city's controversial 2024 Olympics bid, $142 million in cuts to school budgets and a construction boom many say is only exacerbating the city's yawning wealth gap.