NAACP: Mayor Walsh falls short of campaign promises to communities of color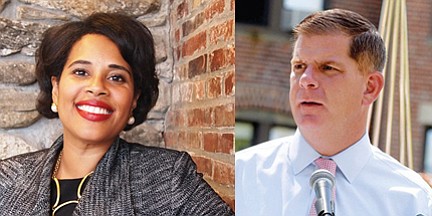 Mayor Martin Walsh has fallen short of campaign promises to increase educational outcomes, provide employment, housing and public safety in communities of color according to a report released by the NAACP Boston Branch today.
Drawing on city data, the NAACP, working in conjunction with a coalition of civil rights and community-based organizations, rated Walsh no higher than a C in any of the main areas, a grade that indicates only some incremental improvement.
"While some of the outcomes are disappointing, we hold firm to the belief that we all want what is best for people in this city. To that end, we believe it is important to look at both the efforts and results of the city's work," Tanisha Sullivan, president of the Boston Branch of the NAACP, said in a statement. The report grades both Walsh's efforts and their results. "To help move us forward, the report should serve to highlight many of the issues of importance within communities of color, as well as a guidepost for our collective work in identifying and implementing results driven solutions. "
Walsh's office disputed the NAACP's low assessments of his track record, telling the Banner in a statement, "We need to take the time to closely review this report, however we respectfully disagree with the grades given. While there is always room for improvement, we are very proud of what we have been able to accomplish over the past four years, from creating opportunities for minority and women owned businesses, to building affordable housing for all income levels to adding over 700 pre-kindergarten seats to expand early learning opportunities."
Economic Development: D grade
Employment
While the NAACP report authors noted Walsh's efforts regarding job skills development, they also said it was unclear if this had produced more employment for people of color, and cited the significantly higher unemployment rate among people of color compared to whites. Walsh was given a C for effort and D for results. A C indicates existing efforts were continued, and a D indicates that there was no change in condition.
Affordable Housing
While granting Walsh a B — indicating modest increase — in efforts, the report authors gave him a D for results, noting that since 2011 only about 2.3 percent of units constructed by the city were affordable, based on its own definitions of affordability. Affordable housing supply is not meeting needs and clearer strategies are needed for fully addressing the problem. However, increases in the inclusionary development policy were useful and the amount of city-controlled resources directed for affordable housing was beyond the city's goal.
Minority-owned business enterprises
Only a thin slice of city spending goes to MBEs, and spending on them in fiscal years 2015 and 2016 declined over the prior two years. It is unclear if recent efforts will help, stated report authors, giving Walsh a B on effort and F on results, the latter grade indicating substantial decline.
Corporate Accountability
In regards to Walsh's work to encourage companies to engage in hiring and procuring supplies from diverse companies, the NAACP gave a F for efforts.