State legislators produce sweeping criminal justice reform bill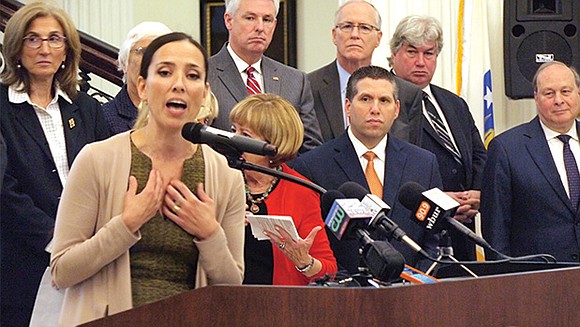 The young and the ill
Noting that studies demonstrate that the human brain's planning centers continue to develop until the mid-20s, Sen. Karen Spilka praised a provision that raises the age at which an offender is considered a juvenile to include 18-year-olds, saying this allows young people to learn and recover from mistakes, rather than be impeded by them for the rest of their lives. Another measure would allow for expungement of juvenile misdemeanor records and non-convictions.
To encourage trust toward parents, a provision would prevent parents and children who are minors from testifying against each other in most cases. Another piece would require the court to provide written justification before incarcerating a child's primary caretaker, which supporters said is unacceptably harmful to the child.
To encourage less severe handling of misbehaviors where possible, the bill decriminalizes offenses such as disturbing a school assembly. Media attention also has focused on a "Romeo and Juliet" measure protecting two underage individuals who are close in age and engage in consensual sex from being charged with statutory rape, an offense that carries sentences of up to life imprisonment and registry as a sex offender.
As for the elderly, Sen. Pat Jehlen pushed for allowing permanently incapacitated inmates to be released on parole to their families, calling the move not only humane and public-safety-conscious, but also a cost saver, as in such cases the federal government would pick up hospital bills the state currently pays. She said the bill should extend to those suffering mental incapacitation as well, such as dementia.
Limits and opposition
The Retailers Association of Massachusetts says some measures go too far. A blog post from the organization states that legislation to raise the threshold at which credit card fraud or theft is a felony and not a misdemeanor from $250 to $1,500 would encourage theft.
Meanwhile, the legislation is less than some activists seek. For instance, it adds a mandatory minimum sentence for fentanyl trafficking, and falls short of allowing felonies to be expunged from juvenile records.
Still, advocates said the bill is a critical advancement.
"This bill the Senate is going to take up this month is the bill we need today," said Sen. Sonia Chang-Diaz, recalling years of delay on reform. "It does not go as far as other states have. It does not include all the things I have asked for. But it is comprehensive in breadth. It recognizes the criminal justice system is broken and tackles that. … We should fight like hell for this bill and not accept anything less."