Making design inclusive
Firm focuses on solving challenges for social impact organizations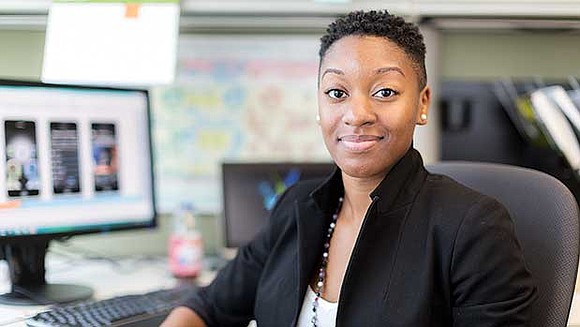 With the free office space in the past, Ransom and her team all work remotely now, which keeps costs down.
"The beautiful thing about that is there's no overhead. It's about having a lean operation," she explains. "An office space would be cool, but we find other ways to bond. We go out for lunch or for drinks — but most of my contractors are working mothers as well. I don't want to try so hard to become like other businesses that I end up tying people to a 9-to-5 schedule."
Conquering imposter syndrome
Ransom now has a new baby, three-month-old Harrison. In addition to caring for him, she is squeezing in graduate studies in engineering management at Tufts University to add a layer of business expertise on top of her technology and design skills.
This time around, school is more comfortable, she says. As an undergrad, she faced some insecurity coming into a technology program as a woman and as a person of color.
"I definitely struggled at the beginning of school, dealing with imposter syndrome, feeling that I didn't belong," she recalls. "I felt I had to prove myself, prove that I made it into Tufts' engineering program on my own merits, that even though I looked different, I still belonged."
She found community in the Society of Black Engineers, serving as president of her college chapter, and found her academic footing in design work. "I felt much better when we were doing projects. I could delve in and really get involved," she says. "I found I wanted something where I could create, all day. In my first 9-to-5 job, I kind of lost sight of that."
Recently, the entrepreneur has discovered she enjoys motivational speaking. She has told her story at events such as the Next Generation Women of Color Summit and the Blueprint Conference for Girls in Boston, and the Sharing Solutions: Advancing Girls in STEM Conference in Pennsylvania, helping to put down a ladder for other women and girls.
What's next?
Having brought some salespeople into IncluDe's mix and promoted one team member to an executive manager role with project sign-off power, Ransom has created some breathing room to focus on what she as CEO needs to do.
"The smartest decision I've made is backing away a little. It's so easy, when you're passionate about it, to just go full force and do everything, wear every hat," she said. "Now I can focus on getting more sales ... and looking over our operations and supply chain. My goal is for this business to run without me, like a well-oiled machine."
One of her visions for IncluDe's future is to start a nonprofit research and development arm. The R & D would focus on serving underrepresented people, she says, on products that make it easier to develop websites usable by people with special needs, for instance, or that make workplaces better for nursing mothers.
"Every day I come up with five different projects," she says, "and I want to be able to pursue them."