Jackson, Walsh debate live from Dudley Square
Clash over housing policy, school funding, policing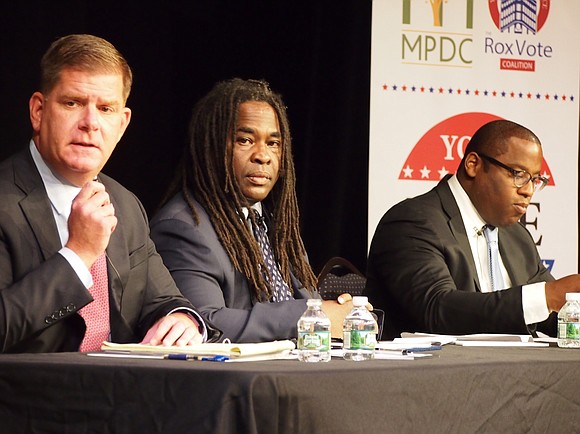 Housing and development
Walsh said the city is on track in its housing plan to serve a growing population's needs, with nearly 9,000 low- and middle-income housing units permitted, completed or in progress. He highlighted the increase in the portion of affordable units that developers are required to make and praised voters' passage of the community preservation act.
"Our housing plan is right on pace where we need to be," Walsh said.
He added that low-income housing cannot just be concentrated in some neighborhoods but most be spread throughout.
Jackson charged that 87 percent of housing in Boston is unaffordable to city residents.
"We are not building housing for the people who live in the city of Boston," he said.
Jackson promised to raise the affordability requirements even further and demand that housing developers using public land price one-third of their units as affordable to low-income individuals, one-third for moderate-income and one-third market-rate. He claimed he could work with the Greater Boston Interfaith Organization to create 1,000 homeownership units within several years, which he said would create community stability and wealth. Furthermore, Jackson called to dissolve the Boston Planning and Development Agency and replace it with a professional planning organization he said would be more attentive to the people's needs.
Schools
Jackson said that while Walsh added funding to Boston Public Schools he cut heavily as well, and that schools suffer from chronic underfunding. Results of this are felt such as in some schools lacking nurses and psychiatrists, he said.
Walsh said he has brought initiatives such as more pre kindergarten seats and extended learning time at some schools, as well as more supports for low-level schools, and that he has narrowed achievement gaps.
Jackson said Boston's teaching staff has gotten less diverse, while Walsh asserted that teaching diversity has increased under his tenure.
Racial equity
The fact that the questions were being posed by a coalition of Roxbury-based social justice-focused organizations seemed to give Jackson somewhat of a home court advantage. That advantage seemed most palpable when the questions included a racial slant. For example, when asked whether blacks in Boston wield a measure of political power commensurate with their share of the population, Walsh lauded black elected officials in the auditorium, noted that 44 percent of the city's hires during his administration were people of color and cited the high number of blacks, Latinos and Asians in his cabinet. He also noted that he was the first Boston mayor to initiate open discussion on race.
"We know there's a problem with race in our city and we have to deal with it," Walsh said.
Jackson's initial answer was much shorter:
"On Tuesday, Nov. 7 we have a great opportunity to ensure there is power for people of color in the city of Boston."
The predominantly black audience included supporters of Jackson and Walsh, many of whom wore teeshirts and stickers bearing their candidate's name. Walsh's appearance at the Dudley Square venue underscored his campaigns determination to beat Jackson on his home turf. During the Sept. 26 preliminary, Jackson garnered just 29 percent of the vote to Walsh's 63 percent. Jackson won just three wards: 12, which is located in Roxbury; 11, which is a Roxbury/Jamaica Plain ward; and Jamaica Plain ward 19.
When asked about Boston's reputation as a racist city, Walsh highlighted his administration's efforts to contend with issues of inequality, including holding a town hall meeting and a series of race dialogues.
"If you don't deal with the past, you can't look forward to the future," he said.
Jackson criticized Walsh for policies he said disproportionately harmed people of color while seeking to site and install a sculpture of Martin Luther King Jr.
"It is unacceptable to build a Martin Luther King statue when you cut funds for the Martin Luther King school," he said.