Weakened Jim Brooks Act passes in Council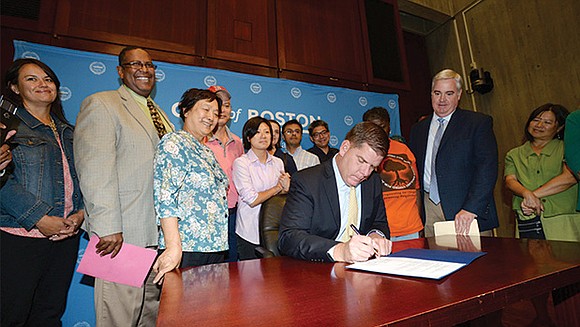 What passed was a piece of legislation requiring landlords or foreclosing owners to inform the city whenever they initiate the process to evict one of their tenants. Landlords and the city also would have to inform tenants of their basic housing rights and of available resources. Additionally, the landlord or owner must serve a written notice to quit or notice of lease expiration or nonrenewal at least 30 days before initiating processes against the tenant or former homeowner. An eviction that did not follow these regulations would be vacated.
Currently, the city does not collect this kind of eviction data, and, Councilor Ayanna Pressley noted, has been unable to secure such information from the Housing Court. The new information gathered under the Jim Brooks Act will help provide groundwork for creating solutions, she said.
"We cannot tackle a problem we do not have data for," Pressley said, calling the act an important measure.
Speaking to the Banner following the hearing, Boston Department of Neighborhood Development Director and Chief of Housing Sheila Dillon said the measure allows the city to know which residents may need their support and to offer them assistance, such as finding a new unit or to urging the landlord to provide the tenant more time. Eviction is costly for management firms and landlords, giving the city leverage to find alternatives. The other piece of the solution, Dillon said, is full-force efforts to build more affordable housing in the city until supply meets demand, as well as to better connect people in need with resources that already exist.
The state Legislature will have to approve the legislation before it can be implemented. Councilors Josh Zakim and Frank Baker co-sponsored a backup ordinance that provides for eviction data collection that would go into effect even if the Legislature rejects the Jim Brooks Stabilization Act.
Councilor Jackson said that the 68 percent of Bostonians who are renters remain vulnerable. He said the real solution lies in city policies to require more affordable and middle-income housing creation from developers, especially those who use public land.
Voting against the Jim Brooks Act were Councilors Bill Linehan, Sal LaMattina and Tim McCarthy.
"I don't think this truly addresses the matter," Linehan said. "I never said I was going to support just cause eviction, because I felt there were ample laws and bureaucracies in place to address these issues."
Councilors said they had had their work cut out for them in trying to balance financial needs of landlords with concerns of tenants facing push-out as Boston's tide of development raises rents.
"It's not everything the advocates want. It's certainly not everything that real estate wants," Councilor Baker said. "Maybe that's legislation — no one's happy."