Taxation with preparation
Liberty Tax Service franchisee finds success in tax prep biz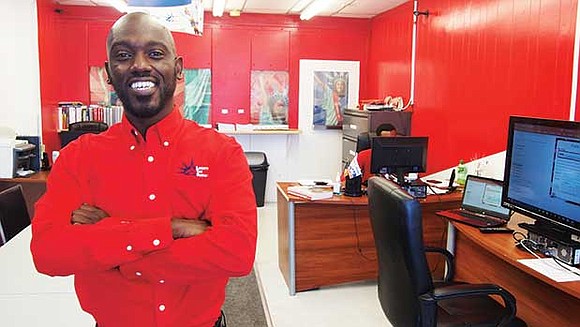 Sam Trotman never planned to make a living in tax preparation. But what started as a side gig soon had him hooked. Equipped with a bachelor's degree in business administration and management, Trotman was working in high-end retail management when he took the leap and switched careers.
"I started doing this for supplemental income, back in 2009. I really wasn't trying to start a career with it," Trotman said. "I ended up liking it much more than I thought."
In 2012, Trotman took the opportunity to join the Liberty Tax Service franchise, buying the rights to Liberty's operations in Hyde Park. The following year he teamed up with a partner, Cynthia Ward, and they proceeded to acquire operations in South Boston and in Mattapan Square.
They now handle a variety of tax preparation services for businesses and individuals, and unlike most tax businesses, stay open year-round. This allows them to take on non-tax-preparation work that still relies on strong knowledge of the tax code.
Peak and slow seasons
January through April is the height of tax season, during which Trotman and Ward hire 30 to 40 temporary employees in roles ranging from tax preparers, marketers and "wavers" — the women and men dressed in pale blue-green robes and Lady Liberty crowns that Liberty Tax Service is known for. During those months, from Monday through Saturday the office is open 9 a.m. to 9 p.m., or until the last customer leaves, whichever is later. On Sunday, hours condense to 12 p.m. to 5 p.m.
When he first entered the tax prep business, Trotman thought he would have the rest of the year to relax. But he soon learned that while schedules slow down, there still is a lot to do — and that staying open has advantages.
In the offseason, office hours drop to Tuesdays, Wednesdays and Thursdays from 12 p.m. to 6 p.m., still above the eight-hours-a-week minimum that Liberty Tax Service requires from its franchisees. With most other tax services closed during those months, Liberty stays open. Filing and refund deadlines have shifted, spreading out to other months, Trotman noted, and some competitors' clients turn to Liberty during the offseason for help with this.

"I have noticed over the years, because most of our competitors are closed, once your doors are open and you're giving good service, your off season will start to pick up because they really don't have anywhere else to go," Trotman said. "Anything that deals with a personal return we can assist on."
Trotman also handles other types of paperwork where deep understanding of taxes can help. This includes helping older clients with pension paperwork, parents and youths with parsing tax returns when filling out forms for colleges or private schools, and foreign clients filing for tax identification numbers.
Trotman also hosts tuition-free tax classes each fall. The aim is to help individuals understand what to expect on their returns, even if they continue to hire someone to handle them. The classes also benefit his business, Trotman said, in that often his team can identify among the attendees people who would be valuable to hire in the peak season. Getting an early assessment of potential employees' skills is important because the short time span of the peak season means the business cannot afford to let someone take 90 days to get up to par.