Jackson challenges Walsh on education, housing
Mayoral candidates present conflicting views of the city at J.P. forum
10/10/2017, 10:43 a.m.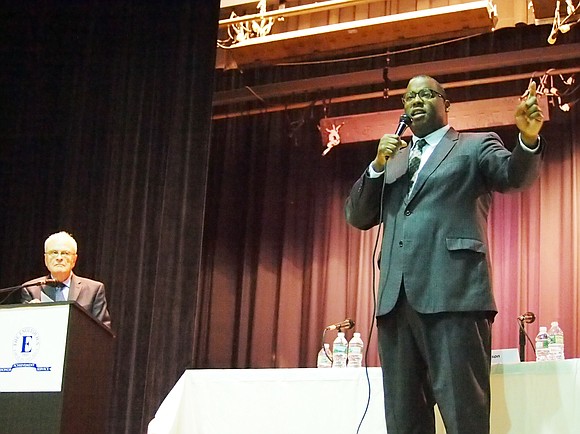 While Walsh's Boston 2030 housing plan calls for the production or preservation of 8,000 units of affordable housing, the city will likely exceed that goal, he said.
"There's no magic number, because if you're a family of four, whether you're making zero, $50,000 or $100,000, you're still struggling to make ends meet in those situations," Walsh said. "We have to build housing so people can stay in the city, so we don't continue to see what's happening in South Boston and Charlestown, where many of the people sold and left, younger people came in and costs went up, and we're starting to see that spread to Roxbury, to Dorchester where I grew up, to Mattapan, to other parts of the city. We're working to make sure we build more housing."
Boston Public Schools Walsh's assessment of the Boston Public Schools similarly contrasted with Jackson's searing criticism. Walsh cited the district's 72-percent graduation rate — the highest ever — and said there are more Level I and Level II schools than ever before, while also acknowledging that there is more work to be done.
At one point he seemed to undercut his own assertion of unprecedented investment in the schools, citing principals who struggle with funding.
"Some principals think it may actually be better to go to Level 4, because extra money comes with that, than sticking with Level III limbo," he said. "That can't be the answer. The answer has to be improving quality education."
Jackson, who rallied alongside frustrated students who walked out of classes on three occasions last year to protest proposed budget cuts, brought his message back to school funding.
"I've been in this room too many times when young people were begging, begging for resources," he said. "In the past three-and-a-half years we've seen $140 million in cuts to our public schools. Eleven million in cuts in this past year alone, with 49 public schools receiving cuts."
Jackson called for restoration of funding for school nurses, librarians, and music and art programs in all BPS schools.
Jackson also took aim at Walsh's proposed compromise with charter proponents in which he proposed a gradual lifting of the cap on charter school expansion from the current 18 percent to 23 percent, along with increased funding from the state.
Incentives — for whom? While Jackson has over the last year hammered away at Walsh for tax breaks given to General Electric to entice the multinational to relocate its headquarters to Boston, Walsh leaned in to the controversy, bringing up GE in his remarks.
"I'm bringing up GE in this room for a reason," he said. "Because in some ways, having GE come to Boston puts us in a very important conversation around the country about companies moving to our city. And I think GE is just one step in that. What I'd like to see in the next step is, how do we bring in manufacturing?"
Walsh said GE could help the city by partnering with local startups to manufacture its products.