Low turnout in municipal preliminary
Walsh, Janey, Edwards among victors as candidate field narrows
Yawu Miller | 10/4/2017, 10:21 a.m.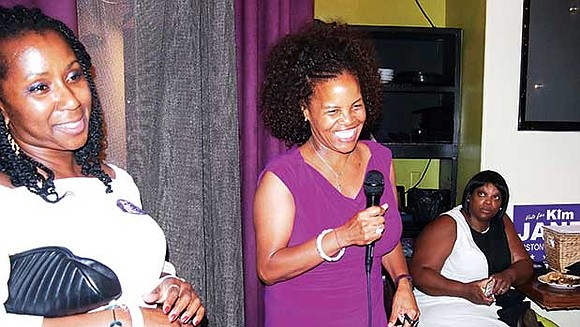 In a preliminary election that continued a trend of low voter turnout for municipal contests, Mayor Martin Walsh garnered 63 percent of the 55,373 votes cast last Tuesday, easily beating out his three challengers. Second-place finisher District 7 City Councilor Tito Jackson won 29 percent of the vote, while Robert Cappucci took 6 percent and Joseph A. Wiley received less than 1 percent.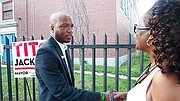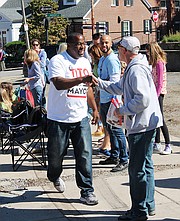 Walsh and Jackson will face off again in the Nov. 7 general election.
In City Council District 7, centered in Roxbury and including parts of Dorchester, the South End, the Fenway and Jamaica Plain, Kim Janey bested a field of 13 candidates with 1,532 votes — 25 percent of the 6,129 voters who cast ballots in that race. Also advancing to the Nov. 7 general election to fill the seat vacated by Jackson will be Rufus Faulk, who received 719 votes — 12 percent of the ballots cast. Deeqo Jibril took third place with 604 votes.
In District 1, which includes the North End, East Boston and Charlestown, North End resident Stephen Passacantilli garnered 3,624 votes while East Boston resident Lydia Edwards trailed just 77 votes behind at 3,547. Eastie resident Margaret Farmer was a distant third with 522 votes.
In District 2, which includes South Boston, Chinatown and part of the South End, Edward Flynn received 5,083 of the 9,011 votes cast, followed by Michael Kelley, who garnered 2,860 votes. Corey Dinopoulos received 504 votes.
In each race, the top two candidates proceed to the final election.
Just four of the nine City Council districts had contested preliminaries. The more than 22,000 voters who turned out in the three districts with races for open seats accounted for 41 percent of the 55,373 voters across the city who cast ballots in the preliminary. With 390,136 voters registered in the city, turnout was a dismal 14.45 percent.
The 13 candidates who vied for votes in the District 7 race undoubtedly helped push turnout there. Janey, Faulk and Jibril had organizations that worked to identify and mobilize voters through phone calls and door-knocking.
In Roxbury's predominantly black and Latino Ward 12, turnout was 20 percent, higher than the 19 percent who voted in South Boston's Ward 6 and the 17 percent who turned out in West Roxbury's Ward 20.
At-large City Councilor Annissa Essaibi George, who campaigned on behalf of Mayor Walsh in West Roxbury, said the action was slow in that neighborhood.
"It was really low turnout," she said. "But the people who came out to vote were engaged. They were the super voters. That's what I've heard across the city."
The so-called super voters, those who turn out for every primary as well as general elections, tend to be more white and vote more conservatively than those who vote only in general elections.
Mayoral push
Backed by a $4 million war chest, Walsh's campaign had by far the most sophisticated ground game, with multiple voter contacts in the weeks leading up to the election through legions of door-knockers, phone banks and text messages. On the day of the campaign, Walsh's volunteer corps, which included city workers, knocked on doors at not only the homes of voters committed to the mayor, but also those only somewhat likely to vote for Walsh. Walsh reported nearly $14,000 in salaries for campaign workers in the first two weeks of September and appeared to have considerable support from among the more than 16,000 workers on the city payroll.