Boston sports teams aim to lead way against racism
Take the Lead initiative opens dialogue on race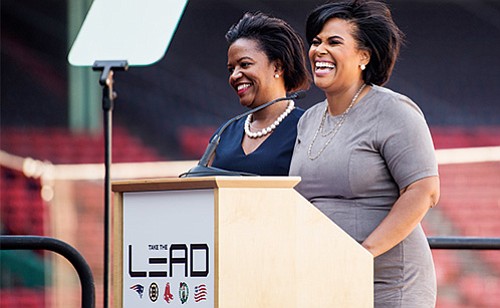 Boston wants to send a message against racism and leaders are turning to sports teams to do it. Representatives of Boston's major teams gathered with community activists and elected officials at Fenway last week. There, they kicked off an initiative intended to encourage Bostonians to actively oppose any racism they encounter and spur the rest of the nation to do the same.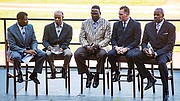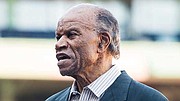 The event was the fruit of discussions launched after Red Sox fans directed racial slurs last May at Oriole's player Adam Jones, as well as at a national anthem singer who is Kenyan. It comes at a time when national conversation rages over football player Colin Kaepernick's kneeling protests against police brutality and other forms of oppression of people of color. Kaepernick's protests have drawn admiration and ire — including a recent disparaging rebuke from the president. Sports stadiums also became an arena of conversation when several white demonstrators on Sept. 13 at Fenway Park unveiled a banner calling out America's history of racism.
Last Thursday's event, titled "Take the Lead," was an opportunity to call attention to the history of racism in some of Boston's teams, notably the Red Sox, which was the last major league team to integrate. Several players spoke during the event about the racism they encountered in Boston or warnings they received before moving to the city.
Still, many also say that while some problems persist, conditions have come a long way. The Take the Lead initiative is meant to ensure that conditions improve a lot more.
Conversation and bystander response
One important step is simply having open conversation, said event emcee Liz Walker, pastor of the Roxbury Presbyterian Church, who also was the first black woman to be a co-anchor on a Boston newscast. People run away from discussing racism, "even though racism always seems to fester under the surface in this country, ready to break free," she said.
State Sen. Linda Dorcena Forry added that it is critical for the city and state to acknowledge its history of racism, because that shapes how to move forward.
Solutions voiced during Thursday's event focused on energizing bystanders to stand up against prejudice. The Take the Lead team unveiled a video to be played at Fenway, Gillette Stadium and TD Garden featuring Boston athletes, of color and white, telling fans to stand up against any acts of racism they encounter.
"If you hear something offensive or hateful, speak up. … I'm taking the lead and you can, too, in the fight against discrimination, racism and injustice," players say in the video. "If we all stand together, hate falls behind."
Mayor Martin Walsh, too, underscored the need for vocal public response to reject any witnessed racism. He joined others in saying such work needs to cover the whole city, not just its stadiums.
"If a person says something racist in a public setting, that reaction should be 100 times stronger," Walsh said. "Take the Lead is a powerful message that everyone has a part to do in ending racism."