Sweet success
A village of experts and peers helps a Dorchester baker grow her business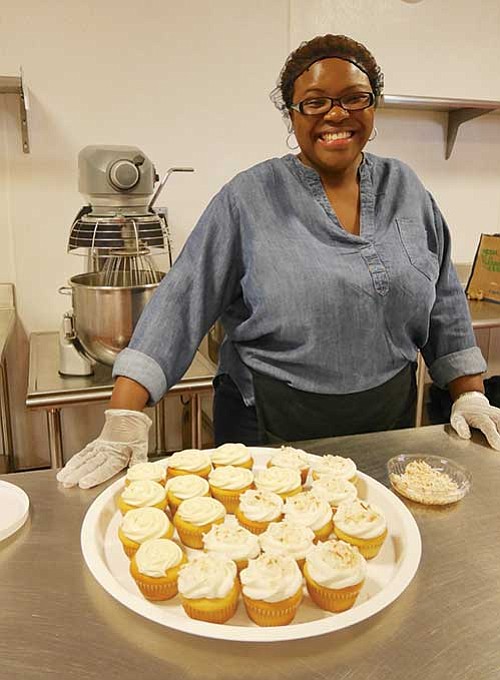 As a lover of baked goods and a person with a nut allergy, whose daughter also has allergies, Maynard had long been frustrated at the lack of good bakeries in her neighborhood.
"I was out on sick leave for a while, and I would walk around and think, 'Why don't we have this in our neighborhood, things like I see in Harvard Square and Brookline?'" she recalled. "And I thought, 'I'm going to do this.'
She left her job in January 2016. "My husband said I had one year to do this," she recalled, and by fall she had been through several types of training, won a pitch contest, incorporated the business and had her space at CommonWealth Kitchen. In November, Sweet Teez was born.
"Then December was crazy," she recalled. "And I still didn't believe I had my own business."
Within a few months, Maynard's products garnered recognition. At the 2017 Boston Food and Wine Expo, she sold all of her cupcakes and "tipsy cake" made from her Jamaican grandmother's recipe. At the New England Dessert Showcase, her offering — "a simple dark chocolate cupcake with chocolate ganache and a little sea salt" — won first place for best chocolate dessert. These early successes are still bringing in customers and sales, she said.
It takes a village
Maynard counts among her blessings a wealth of programs that have provided training, support and new networks of experts and fellow entrepreneurs.
"I grew up here in Dorchester, and I'm no different from anyone else," she said. "But when you dig, you really do find opportunities, and people who can help you."
First there was the Center for Women in Entrepreneurship, where she enrolled in a business planning class. She gained a business plan but still needed guidance specific to getting a food business rolling.
"I read an article about Mei Mei [food truck], and how they worked in CommonWealth Kitchen — and I thought 'I'm going to call them.'" It turned out that they were launching their Food Biz 101 course. "It saved my life. I learned about entity formation, scaling recipes and all the things I knew nothing about. At the end I did a pitch, and when I ended up winning, I was shocked! But that was a great confidence boost."
Following Food Biz 101, the Lawyers' Committee for Civil Rights and Economic Justice's Access to Business Law seminar and pro bono legal support helped her master the legal aspects of business startup and take the necessary steps to get Sweet Teez incorporated.
She took a pricing workshop and got logo and website help through the City of Boston's Women Entrepreneurs Boston (WE BOS) program. There, she learned about a Babson College program called Women Innovating Now (WIN) Lab, an eight-month accelerator program on which the City of Boston is a partner.
Applying to WIN Lab brought benefits even before she started the program. Upon learning about Sweet Teez's cupcakes, the interviewer placed an order for Babson-logo cupcakes, and now, Maynard said, the college has Sweet Teez "on cupcake retainer" for repeated orders.