Huntington Theatre Co. brings Molière's 'Tartuffe' into 21st century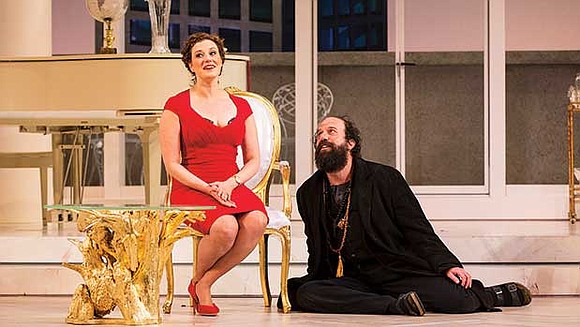 Another feature of the Huntington production is its use of a translation by Ranjit Bolt acclaimed for retaining the rhyming verse in the original. But Molière wrote 12 beats per line, and Bolt's snappy eight-beat lines are not always entirely audible in word-dense, high-speed speeches.

But the abundance of visual comedy makes up for these occasional lapses. Characters climb over each other, topple, leap, grasp and tumble with ease to express their emotions.
The only semi-stationary figure is Orgon, played by Frank Wood, who won a Tony for his role in "August: Osage County" on Broadway. His Orgon is robotic as he speaks his lines, as if hypnotized by his guru.
Praising Tartuffe as the medium of his newfound enlightenment, Orgon says, "…now I can see it's all illusion, even love/That's one disease he's cured me of: Yes, I could see my family die/And not so much as blink an eye."
Only three characters interact with Tartuffe as cool-headed equals: the outspoken Dorine, endowed by Jane Pfitsch with down-to-earth spunk; Orgon's wife Elmire, performed by a superb Melissa Miller (who played the maid in "Tartuffe" on Broadway); and her brother, Cléante, played with élan by Matthew J. Harris, recipient of a 2016 Elliot Norton Award for his role as the younger of two rival brothers in the Huntington production of "Topdog/Underdog."
This trio is sequin-free: Elmire wears a tomato red, body-hugging dress; her brother is attired in a blue leisure suit; and Dorine runs the household in a no-nonsense tailored outfit.
Tartuffe makes his appearance after a long opening scene dense with talk, mostly about him, and the real fun begins. He arrives with his prey, Orgon. Wearing black garb and twin Moroccan fez hats, the two descend the staircase in unison, spinning Tibetan prayer wheels and murmuring a chant.
Brett Gelman's Tartuffe is worth the wait. A longtime member of the Upright Citizens Brigade Theatre, an improvisational comedy troupe in New York City, Gelman is a voracious presence in every scene. At first sight, with his black beard and long black overcoat, Gelman's Tartuffe could be a stand-in for Tevye in "Fiddler on the Roof," with a dose of Rasputin, the monk who a century later arguably brought down the Russian Empire. But Gelman's Tartuffe is no ascetic. He is a robust, well-fed cleric who brings lusty energy to his winner-take-all strategy. Orgon readily hands over property titles to his guru and just as eagerly offers Tartuffe his daughter's hand in marriage.
Meanwhile, Tartuffe pursues the women of the house — both Elmire and her daughter — and spars with his most vigorous foes, Damis and Dorine.
Miller's Elmire is smart, sexy and self-possessed, and in one of the best scenes in the show, she stages a reverse seduction, with Orgon hidden under a table, to prove that Tartuffe is not a holy man but rather a lecher on the make. Orgon takes his time, but he finally emerges to confront Tartuffe.
Orgon and his family reunite and join forces to oust the hypocrite, but they are no match for his wiles. It's only when Tartuffe overplays his hand that his luck runs out, and, stylish from start to finish, this production lets him meets his fate with a spectacular finale.