Artist Theaster Gates focuses on urban renewal in Chicago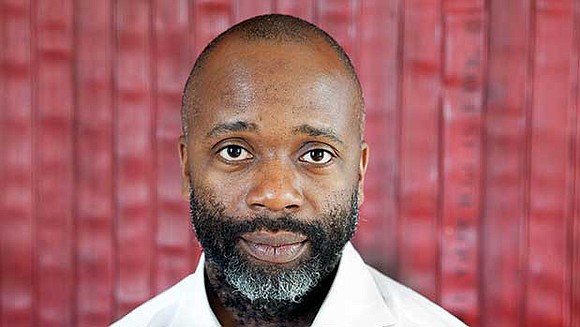 Varied vocals
Not unlike a jazz musician, Gates injected elements of surprise with pauses, repetitions and a bit of vocal scat, accenting or dropping syllables from the words of familiar songs. Accompanying his vocals with stretches of percussive breathing and tapping hands and feet, he launched a medley from an American songbook of the 1950s, starting with the national anthem, then moving to "The Battle Hymn of the Republic," "God Bless America" and a host of other familiar hymns and pop songs.
As Gates sang, he projected photographs from the Williams Collection on a large screen. First up was a whites-only sign for a pool, dated March 1921. Mingling with images of grotesque blackface caricatures were photographs of traditional African masks and portraits of elegant black families by photographer Roy DeCarava (1919-2009).
Accompanying a poster of "Porgy and Bess," Gates sang a lilting refrain from that musical, and moved from riffs of "Ain't Gonna Study War No Mo," "Go Tell It on the Mountain," and "Take Me Out to the Ball Game," to the inevitable "Chicago," which he sang with a rare smile before rendering "O Holy Night" as a keening improvisation. To the melody of a venerable hymn, he sang, "This race that I have, the world didn't give it to me/ This hate that I have, I got it honestly." As if consumed with rage, Gates mimicked the body language and diction of an old-school gospel preacher and spouted sounds that weren't quite words.
He then stepped away from the lectern, took off his pack, leapt up the hall's steep stairs and went out the door. But the show was not quite over. He came back, bounded down the stairs and concluded his performance by thanking the audience.
Next, Gates sat down for a Q&A session with Sarah Lewis, assistant professor of African Studies and the history of art and architecture at Harvard, whose class he had visited earlier that day. Affable and energetic, Gates responded to questions from Lewis and the audience by miming the didactic role of a teacher. Commenting that his mission was about "creating black space" and "nation building," he stepped to the white boards, wrote the words "alchemy" and "value making" and gave a concise discourse on countering neighborhood gentrification and deterioration by owning property, an act he described as "investing in value" and choosing to be "from somewhere."
"I'm not an American," said Gates, "I'm a Dorchesterian," referring to his address on South Dorchester Ave. in Chicago. He exhorted the audience to "own your stuff, buy land." The starting point, said Gates, "is to first identify the thing you believe in."