Unfinished journey
Museum traces path toward justice and freedom for African Americans
susan | 11/16/2017, 6 a.m.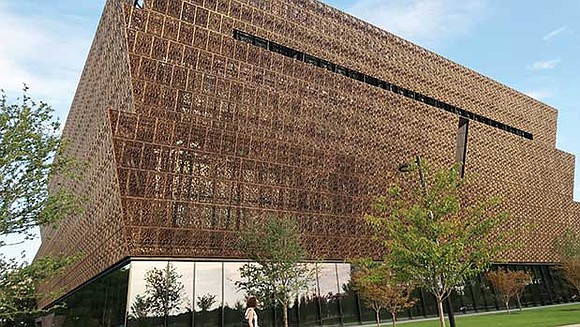 Engraved on the wall are quotations from America's third president, Thomas Jefferson, and author James Baldwin. Accompanying Jefferson's words from the Declaration of Independence, "All men are created equal," is a panel bearing the names of his slaves, including Sally Hemings, with whom he fathered a child.
Connecting past and present, Baldwin's quotation states, "The great force of history comes from the fact that we carry it within us, are unconsciously controlled by it … History is literally present in all we do."
Before the exhibition ascends to the first level and its concluding segment, "A Changing America: 1968 and Beyond," a wrenching memorial commemorates Emmett Till, the 14-year-old from Chicago who, while visiting relatives in Mississippi, was murdered for whistling at a white woman. On view are the glass-topped casket used to display and bury the boy's body and a video showing his magnificent mother as she insists that his mangled body be exposed for all to see — an act that helped to galvanize the Civil Rights Movement.
Offering a place of rest and reflection is the museum's Contemplative Court, where arcs of light and water surround visitors and a wall displays a quotation from Dr. Martin Luther King Jr.'s renowned 1963 work, "Letter from Birmingham Jail." Inscribed on the dark stone are the words, "Let justice roll down like waters and righteousness like a mighty stream."

The museum's upper levels showcase African American achievements in the arts, sports and public life. But as the exhibition on its three lower floors makes plain, the journey toward justice and freedom is an unfinished story, a struggle that continues to this day.