In 'The Color Purple,' Carrie Compere finds her dream role
Colette Greenstein | 11/16/2017, 6 a.m.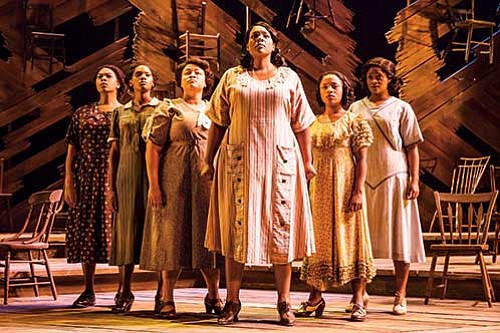 "I get asked the question, 'What is the role that you would love to play, that you aspire to get to?' And I'm playing her right now," says actor Carrie Compere, speaking about her role as Sofia in the national touring production of "The Color Purple."
On the Web
For tickets to "The Color Purple," call 866.348.9738 or visit www.bochcenter.org.
Compere starred on Broadway in the iconic role, made famous by Oprah Winfrey in the 1985 film adaptation of Alice Walker's Pulitzer Prize-winning novel. "The Color Purple," which won the 2016 Tony Award for Best Musical Revival, will travel to more than 30 cities across the U.S. in its first year on tour. It opens in Boston on Nov. 21 at the Boch Center Shubert Theatre, where it runs through Dec. 3.
The actor spoke to the Banner by phone recently, describing her love for Sofia and why it's her dream role. "I feel extremely blessed. I really, really do. I love Sofia. I love this story," she said.
She had high praise for the author as well. "I love Alice Walker's work. I think she's a phenomenal woman. I think she was a woman before her time. And I think she put a beautiful story of perfectly flawed, fallible human beings together and made a masterpiece. I'm so honored to be a part of it."
Sofia was portrayed also by "Orange Is the New Black's" Danielle Brooks when the revival first opened on Broadway in late 2015. Stepping into the role after Brooks, Compere said, she was able to take the time to figure out who Sofia was for her and what the character represented to her and her life. Part of that exploration can be attributed to director John Doyle, who allowed the cast to "find their own interpretation of each character," according to Compere. "It's been a cool experience because I'm able to add things to her that I think are necessary for my Sofia's story."
The Trenton, New Jersey native, who made her Broadway debut in the musical "Holler If You Hear Me" in 2014, takes the responsibility of portraying Sofia seriously. With all that Sofia's character has to endure, Compere feels strongly about telling her story "with integrity, for women who have actually experienced that [abuse and domestic violence] in their lives," says the actor. "And so the challenge for me is getting out of my own way and allowing her to live in that space every single show, and whatever the outcome may be, let it be — but just let it be genuine."
The timeliness of The Color Purple hasn't gone unnoticed by Compere. Although the story is about a specific community of black people "trying to figure out life, trying to get to a place where they can have peace, where they can be a community," says Compere, it's also, she notes, "very much a human experience."