Building trades in the blood
Entrepreneur draws on diverse experiences to build business
Yawu Miller | 11/15/2017, 11:03 a.m.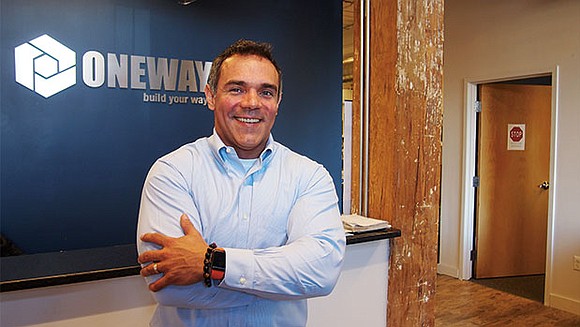 "I think the community benefits when you're hiring people from within the community," he says. "I live in the city of Boston. I hire my own and I sub out to my own."
SBA help
To reach his current level, Gonzalez had help from the Small Business Administration. As the construction industry came to a near standstill in 2009, he attended an SBA emerging business program training. The training helped him hone his business skills.
"I didn't realize how important accounting was to stepping up my growth," he said.
Through the SBA, he also qualified for an 8A designation that allows minority and so-called disadvantaged businesses to bid on major government projects. That designation opened the doors to jobs ranging from roof repairs at the National Park Service's Longfellow House in Cambridge to the aforementioned lighthouse project — a tea- down of an existing lighthouse on Deer Island and the construction of a new, solar-powered steel beacon 150 yards away.
He has learned that working on government contracts can require patience.
"It takes a little longer," Gonzalez says. "If you get a job in September, you might not get started until April or May of the next year."
But in the current Boston-area construction boom, One Way Development has plenty to keep the team busy. Gonzalez got a piece of the $1 billion Suffolk Construction Wynn Casino project, erecting a prefabricated steel warehouse for the project.
Minority contractors
In addition to a boost from the SBA, Gonzalez has benefitted from his work with the Massachusetts Minority Contractors Association, where he serves on the board as clerk.
"These are contractors who know what the issues are in the city of Boston," he says. "There are contractors on the board who have been advocating to create opportunities for people of color to be able to have access. Our struggles are all the same — capital, cash flow, opportunities. Their stories are my stories. It's helped me to know there's a group that has the same struggles that I do, that I'm not alone in this."
Gonzalez seems to have hit his stride. He attributes his success to his agility — moving between different roles and jobs — a capability he sums up with a comparison to the CrossFit workouts he does every morning before work.
"It's high intensity, functional movements, constantly varied," he says. "Every day is a different day. You have to be able to be ready for anything."