Entrepreneurship 'para todos'
SBA grant helps EforAll expand Spanish-language programs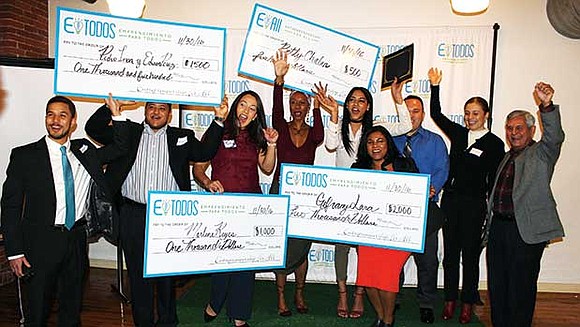 Funding for the EparaTodos expansion is from the SBA's Growth Accelerator Fund Competition, which aims to focus attention and funding on gaps in the entrepreneurial landscape. EforAll was one of 20 businesses nationally to receive a grant, according to the SBA, and the only awardee in Massachusetts.
Diversity and success
Of the people who end up in EforAll's accelerator programs, 70 percent have been women; 50 percent people of color; 40 percent immigrants; and 60 percent previously unemployed, says Parker. And there's a reason for these results.
"These are the folks we reach out to in our marketing efforts," he says, "whether it's through partners, going to farmers' markets or craft fairs, making presentations at organizations that serve these populations in some way."
EforAll's accelerators run twice each year. The next sessions are already filled and set to begin in December, and the following sessions will run in summer 2018. Participants are selected through a two-stage review process. They are not required to live in the city in which the program is located, though for the initial three months, they must be able to attend twice-weekly meetings at the program site and connect with program mentors weekly.
And what happens after the accelerator program? EforAll reports that so far it has seen 254 graduating entrepreneurs create 431 jobs. The new companies have generated $9.9 million in annual revenues and raised $11.4 million in capital. Some 83 percent of the program participants from the accelerator's first seven years are still in business.
Companies started by EforAll entrepreneurs span more than 70 sectors, from apparel and automotive to water and wellness, with a sizable number in the food, technology and service industries.
Stalin Cortorreal, a civil engineer, was among the first EparaTodos cohort in Lawrence in 2016. The training helped him start his own home improvement contracting company, SGA Contracting, LLC.
"It was a big help," he says. "The good thing is, they put you in contact with the people you need to know. They find you mentors that help you get the information you need."
For Cortorreal, mentors included a lawyer and people in the contracting business.
"They help you visualize what you actually need," he explains. "At the beginning I didn't even have my construction supervisor license, and they advised me to get that. So I went through that process. At the end of my program, I had all the licenses and permits I needed."
For now, Cortorreal continues to work at his fulltime engineering job while getting his own venture off the ground. He remains part of the EforAll community, talking with new program participants about their problems and dreams and what they can learn from EforAll and from their fellow trainees.
"EforAll is a place you're going to achieve your dreams," he says. "Everybody has a dream and everybody helps each other."