Entrepreneurship 'para todos'
SBA grant helps EforAll expand Spanish-language programs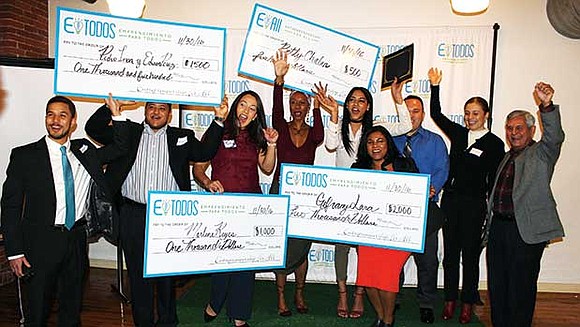 At Entrepreneurship for All, the first step for someone with a business idea is to enter one of the pitch contests offered four times a year in its locations in Lawrence, Lowell, New Bedford, Fall River and Lynn.
Standing up and pitching an emerging idea before judges and an audience could be a scary prospect for anyone, but perhaps even more so for those typically underserved by business accelerator programs. Such underserved groups, including immigrants, unemployed people, people of color and women, are the types EforAll works particularly hard to recruit, says CEO David Parker.
"We listen to ideas from anyone, but where we offer extra value is in our very concerted efforts to reach would-be entrepreneurs who don't feel confident even getting started with an idea — people who lack confidence, or lack a local network," Parker says.
For immigrants, for instance, there is a host of challenges that make them feel less-than-ready to go forward with even the best of ideas.
"There's a lack of knowledge of how the U.S. business system works —permitting, registering, setting up bookkeeping. Someone new to our country might not know these things," Parker says. "And it's so hard to get a business started if you don't know anybody."
Pitching: scary but rewarding
When speaking to groups in the cities and communities EforAll seeks to serve, he invites them to come explain their ideas at a community pitch contest in front of a friendly audience.
"The judges aren't jerks," Parker explains. "It's like 'Shark Tank' but without the teeth. Our judges are trained to always encourage, always be positive. We're in the business of encouraging people to start a business."
Pitching is hard, he acknowledges, but adds, "You have to challenge yourself to do something you haven't done before. Sharing the idea is necessary to get advice, get support and get others involved."
Some of the contestants in these free pitch sessions win prizes — maybe enough cash to help get a website up, or to make a prototype — and all of them can go on to apply to EforAll's accelerator programs, in which small cohorts of entrepreneurs receive a year of training and support, including an intensive 12-week initial session.
Growth and expansion
EforAll started in 2010 as the Merrimack Valley Sandbox, a project under UMass Lowell with initial funding from the Deshpande Foundation. The mission was to build a community-based entrepreneurial ecosystem where people and institutions from across the community get involved and encourage entrepreneurship.
The Sandbox began in Lowell and Lawrence, expanding to New Bedford and Fall River in 2014 and Lynn in 2016. The organization became a full-fledged 501(c)(3) nonprofit in 2014 and changed its name to Entrepreneurship for All.
Serving Spanish-speakers
In Lawrence, the majority of residents are native Spanish-speakers. To serve them better, EforAll launched EparaTodos, the Spanish-language version of the accelerator. Now, a $50,000 grant from the U.S. Small Business Administration is helping expand EparaTodos to Lynn, a city whose population is roughly one-third Latino.