Boston Ballet program reflects talents of Finland
Company to perform 'Obsidian Tear' and 'Fifth Symphony of Jean Sibelius'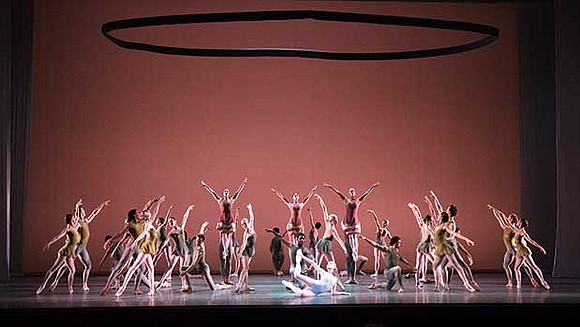 With pirouettes and leaps that are both lyrical and athletic, the man in black seems to court the man in red, whose solos convey a searching individuality with semi-ritualistic movements such as wide arcs and spirals. The two men circle one another, mirror one another's movements, connect and separate, intertwine and then unwind with a fluidity that is marvelous to watch.
The lyrical and athletic blend of McGregor's choreography continues in the second segment, in which the nine-man ensemble performs to Salonen's "Nyx," a symphonic composition with passages of clanging metal and ominous drum rolls inspired by its namesake, a Greek goddess of the night. Now the man in red becomes a character, a figure isolated, taunted and attacked. One dancer in black also emerges as a primary character, his costume's black armband suggesting the traits of a Gestapo-type militant.
Although at moments verging on melodrama, the choreography mainly succeeds at distilling the primal power plays among humans as they bond, part, fight and compete in pairs, groups or packs; and renders these interactions in a ballet that is both disturbing and beautiful. The dancer in red is led up into a high point in the darkness, his back to the audience, and is hurled off. Among the remaining dancers, the push and pull for control escalates, until the dancer with the black armband also dives into darkness.
Bringing luminous joy to the stage is the finale, a world premiere of Elo's "Fifth Symphony of Jean Sibelius," performed to a beloved Sibelius composition, "Symphony No. 5 in E-flat major, Op. 82," which, says Elo, is "like hearing your national anthem."
Sibelius presented the completed symphony in 1919 to a newly independent Finland that had just elected its first president. Boston Ballet Orchestra's rendering brings out the piece's heroic brass passages and shimmering impressionistic evocation of Finland's landscape, echoed in the earth tones of Yumiko Takeshima's costumes, the radiant lighting by Mark Stanley, and Elo's delicate but strong choreography, which with a quicksilver flow of angles and curves creates intricate lattices and recurring circular patterns, as if mimicking the formation of life itself on a cellular level. The sublime music fully inhabits the dancers' bodies in this mesmerizing ballet.