Jackson's mayoral bid raised issues of equity
Challenge failed to beat power of incumbency
Yawu Miller | 11/8/2017, 10:45 a.m.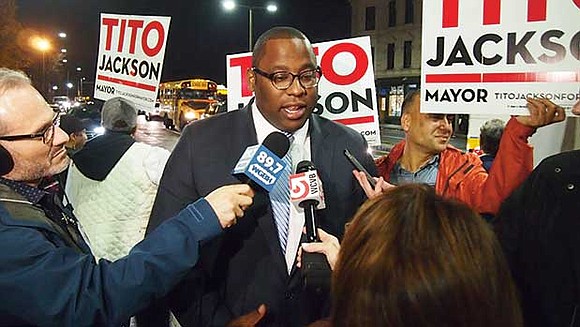 While few blacks or Latinos command budgets or staff in the Walsh administration, they occupy key positions in his administration. Unlike during the 1983 campaign, blacks, Latinos and Asians are campaigning on Walsh's behalf in significant numbers, making multiple voter contacts with an organization that dwarfed Jackson's.
Walsh has worn a mantle of progressive politics, launching initiatives such as a Boston My Brother's Keeper initiative that convenes youth and youth workers for conversations about issues confronting black and Latino teens and young men. His administration earlier this year issued a Resilient Boston plan, aimed at addressing issues of systemic inequality in the city.
Issues of inequality
Jackson struggled to keep social justice issues front and center during this year's campaign. An absence of mayoral forums before the Sept. 26 preliminary made that task even more difficult.
In his candidacy, Jackson highlighted issues of inequality — the city's production of new housing unaffordable to those living here, a police force that bears less and less resemblance to the city's diverse population, and the mayor's cuts to the city's schools, which prompted protests and two student-led school walk-outs last year.
In the two mayoral debates, both held in October, moderators raised those issues as well as questioning Walsh's record on the city's failed Olympics bid, his decision to keep on the city's payroll two members of his administration who were indicted by a federal grand jury, and his apparent unwillingness to implement body-worn cameras for police officers.
In what was perhaps the most significant challenge to the Walsh administration's record on racial equity, the NAACP Boston Branch issued a scathing report detailing how the mayor has failed in his first term to live up to campaign promises to make the city more inclusive, citing data provided by Walsh's own administration that show little to no progress in the areas of economic development, education, affordable housing and city staffing.
Against the odds
In the end, Walsh's army of volunteers and paid campaign staff overwhelmed Jackson's shoestring operation. The multiple voter contacts, endorsements from black elected officials and Latino activists and the name recognition that comes with being mayor all proved too much for Jackson's campaign to overcome. From the beginning, Jackson's bid to unseat Walsh was a long shot. No sitting mayor has been voted out of office since 1949, when acting Mayor John Hynes defeated James Michael Curley, who ran for re-election from prison.
The lasting legacy of this election likely will be the far-ranging conversations over racial inequity and income inequality that Jackson pushed as part of his campaign. Whether those issues move from conversation into action over the next four years will depend on the resolve of elected officials and the city's civic leadership.