House sets sights on criminal justice reform
Black and Latino Caucus members take lead role in shaping legislation
Karen Morales | 11/8/2017, 10:50 a.m.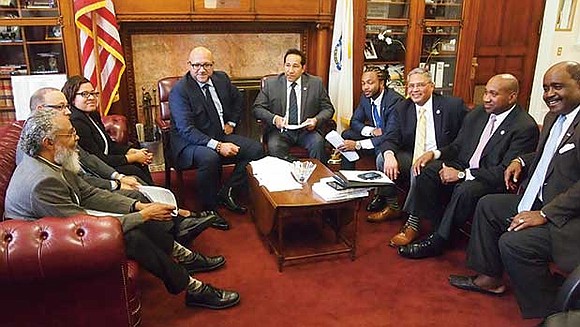 The House will debate the criminal justice reform bill next week for two days, Sánchez said. It will then go into a conference committee where House and Senate members have the opportunity to iron out the differences between their bills. The bill will not likely come up for a vote in the House before the Legislature takes its holiday recess.
"I expect the members of the conference committee will work hard to get this done as quickly as possible," Sánchez said.
While Black and Latino Caucus members have been advocating criminal justice reform legislation for several years, House and Senate Leadership began the process of crafting legislation earlier this year by acting on a report from the Council of State Governments, a national organization led by state officials. That group's Massachusetts affiliates proposed legislation aimed at reducing recidivism and paring down the state's prison population through measures including reducing sentences for good behavior and increasing funding for anti-recidivism programing in prisons.
Criminal justice reform advocates fought vociferously for more comprehensive reforms to keep people out of prison, including the elimination of mandatory minimum sentences. At one point, activists with the Jobs not Jails coalition marched out of a CSG meeting and demonstrated outside. During the January Martin Luther King Breakfast in Boston, state Sen. Sonia Chang-Diaz took legislative leadership to task for moving too slowly on comprehensive criminal justice reforms.
The Senate bill passed last month represented the first concrete victory for criminal justice reform advocates, and advocates are hopeful the House will follow suit.
"We are pleased preliminarily that the House has put out a comprehensive criminal justice reform bill addressing many areas of a big broken system," said Lew Finfer, executive director of the Massachusetts Communities Action Network, a member of the Jobs Not Jails Coalition.
"Currently there are serious problems, with too many people with drug addiction going to prison instead of treatment, great racial disparities on who goes to prison, [and] recidivism," he said.
Finfer said the coalition would likely advocate for amendments to increase the threshold for a felony conviction from the $750 in the House bill to the $1,500 in the Senate bill and would continue to push for the elimination of mandatory minimum sentences.
One significant difference between the Senate and House bill is that the latter moved two drugs — carfentanil and fentanyl — to Class A status, and strengthened the current Fentanyl trafficking law by changing the threshold amount from 10 net grams of fentanyl to 10 grams of a mixture containing fentanyl. There is also an added minimum penalty of three-and-a-half years for distributing the drugs.
Making it the strongest law in the nation for trafficking carfentanil if passed, the legislation would establish a penalty for anyone who knowingly traffics the drug in any amount by imprisonment for three-and-a-half years to 20 years.
"It makes sense for us to do something to state, 'We know you're killing people,'" said Sánchez in reference to carfentanil traffickers. "Their disregard for human life is profound."
The House legislation built upon CORI reforms that would make applying for jobs, housing and professional licenses more accessible for people with criminal records. The bill reduces the wait time to seal a conviction from 10 years to seven years for a felony and from five years to three years for a misdemeanor. It also allows a conviction for resisting arrest to be sealed.
"The sooner ex-offenders find employment, the less likely it is for them to commit another crime," said Sánchez.
Another noteworthy part of the House bill would increase humane treatment of inmates held in solitary confinement by setting limits on the length of time individuals can be held in solitary and prohibiting the use of segregation for pregnant women and juveniles.
Also proposed in the bill are data collection initiatives to evaluate policy changes, the ability to reduce or waive fines and fees based on "substantial financial hardship" and the requirement that a person's financial resources be taken into account when setting a bail.