House sets sights on criminal justice reform
Black and Latino Caucus members take lead role in shaping legislation
Karen Morales | 11/8/2017, 10:50 a.m.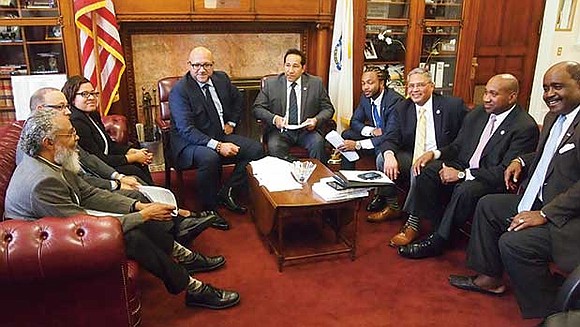 Members of the Legislative Black and Latino Caucus are backing a House criminal justice reform bill they say would repeal some mandatory minimum sentences, give youthful offenders and others better opportunities to seal and expunge their criminal records and put limits on the use of solitary confinement in state prisons.
Speaking to reporters in the State House office of House Ways and Means Chairman Jeffrey Sánchez, the lawmakers said the legislation, crafted with their input and that of criminal justice reform advocates, will have far-reaching consequences in communities affected by crime and incarceration.
"This is a monumental piece of legislation," Sánchez said. "This is very personal for a lot people. There's been a lot of people in our community who have been subjected to real challenges in the criminal justice system and this is a way to try and repair those injustices."
Good chance of passing
The reforms are not as far-reaching as the legislation approved Oct. 27 by the Senate, but the Black and Latino Caucus members said it has a good chance of obtaining the 81 votes needed to pass the 160-member House.
"We're asking every Republican in the House to vote on this bill," said state Rep. Russell Holmes. "If we ask for too much, we won't pass this."
Sánchez said the legislation may need to withstand a veto by Governor Charlie Baker, who has not commented on the reforms passed by the Senate.
"We still don't know where the governor stands on these issues," Sánchez said.
The legislation establishes a process for expunging certain juvenile and criminal records for young adults ages 18–21 without a waiting period, not including cases of deaths, sexual violence, or dangerous weapons.
Sánchez said the provisions for expungement will provide many in Massachusetts with a second chance at finding gainful employment and housing.
"This is the first time ever there is expungement language proposed anywhere. I'm personally ecstatic about it," he said.
Amendments may be filed
Neither the Senate bill nor the bill being advanced in the House contain language mandating that police departments compile and make public data on police stops of pedestrians and motorists by race. Such provisions have been sought by Black and Latino Caucus members.
Rep. Byron Rushing said Caucus members will have the opportunity to file amendments, including one requiring disclosure.
"We're getting ready for the debate on this bill as a Caucus," Rushing said. "This certainly touches on all our priorities. We have to look at the details and make decisions about whether we want to attempt to amend this."
Rep. Evandro Carvalho said he will file an amendment to eliminate mandatory minimum sentences for drug crimes committed in so-called school zones — a 300-foot radius around school buildings — that triggers an automatic 2 ½-year sentence. Prosecutors favor the law because the threat of the long sentences it carries gives them leverage to force defendants to plead guilty to lesser charges, eliminating the need to go to trial.
"The school zone is the most impactful of the mandatory minimums," Carvalho told the Banner.