Filling the gaps for formerly incarcerated Bostonians
Office of Returning Citizens director working to solidify partnerships, offer wraparound services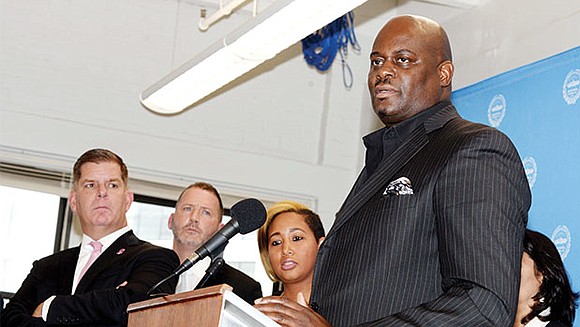 And what exactly can you do for them?
They'll receive wraparound services. As an example: We realize that many of our community residents may need housing. We are taking an approach where we're not looking at naming a shelter, but at rapid housing. As we look at the rapid housing concept, we may also be looking at some type of health or mental health check, and then at education or employment. So we're able to wrap up all these services for our 'customer,' or citizen, and help them see beyond what they've seen before. We help create a path.
How will you measure success?
Our immediate goal is to offer services to people in any way we can. There are so many factors in measuring recidivism, so we can't necessarily say we've affected that. What we can do is provide excellent services. Our success will be measured by the partnerships we create and by the success of those individuals who we put into those various pipelines. We're changing the paradigm. We all deserve second, third, maybe fourth chances. Success is being able to get up after falling down.
What portion of those 3,000-plus returning citizens will your office touch?
That is something we will follow up on next year and assess. If we can just serve a portion of that number, maybe 10 or 20 percent in our first year, that will be positive. Since it is voluntary, we can't say. Also, it requires time for people to feel comfortable, to feel safe, to feel they can trust us. Accessing our office is totally voluntary — 100 percent voluntary. We want to make that clear so [formerly incarcerated individuals and their families] understand we are not under the watchful eye of wherever they're being released from.
The challenge is immense. It could be seen as an overwhelming task. However, this is a task for entire communities to embrace. Families, organizations, churches — everyone who has been touched by this issue. Statistically, one in three men of color born after 2001 will have been affected by incarceration. It affects a lot of people and we want to make sure our office is assisting our residents of Boston.
Are you a Boston native?
I am. I grew up here in Boston, on Waumbeck Street during the New Edition days, and Shawmut Avenue, Dudley, Mattapan... I was educated here, at Jamaica Plain High School. But in the summers, my mother sent me to Troy, Alabama. My grandparents had a little land there, and a mini-farm with chickens and pigs. We fed them, planted, harvested. That's where I learned about hard work, from sunup to sundown.
How will you bring your prior experience into this role?
This job is very special, and a unique fit with what I've done in the past. My education, professional experience and connections allow me to really build the initial pieces for the office.
I've worked with people outside prison walls all my life. I have family members who have been in and out of the system and have needed assistance. I have friends in that situation. Those personal experiences help fuel my desire to help. And my education helps me understand the business aspects of the office, that we are not successful unless we involve the community and create public private partnerships. My experience working with different agencies will come into play. I know there are individuals and organizations that want to help and need to be shown how to help.
Will you continue to do some of your other mentoring activities?
Absolutely. Mentoring never stops. It happens in the grocery store, outside the gas station, on your walk to the train station. So I've been mentoring for well over 18 years, and many of those fruits have come to bear in young men and women being successful in their organizations.
Is there anything else you want to mention?
One of the things we're looking to do next year is to have a program for children of incarcerated parents, some type of toy drive for them. And we're looking at internship pipelines for employment. There are a lot of things in the works.