Edwards campaign takes aim at rival's electoral base
Karen Morales | 11/2/2017, 6 a.m.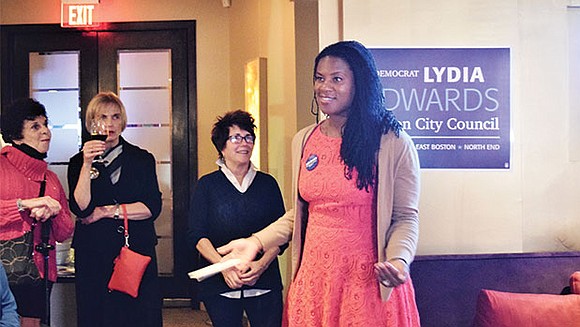 "No one was representing or talking to the Spanish-speaking immigrant voters and people of color," she told the Banner in a phone interview. "The politicians at the time didn't speak their language, have the same culture, or connect with them, which resulted in low voting participation. One of the main reasons why I ran was because I didn't understand how the local politicians were serving their constituents, if they couldn't even communicate with them."
Now, she observed, there has been a huge shift in voter participation from those once-marginalized groups due to a combination of population influx and a change in campaign strategy seen in Spanish-English campaign literature and the use of canvassing volunteers who speak Spanish.
"There are now efforts to reach out to them directly in this election cycle, which is why we're seeing these numbers in East Boston," she said.
"What I'm excited to see," Mota continued, "Is the upcoming youth who were born here from immigrant families who support progressive policies and voted for Bernie Sanders in the presidential election. They're a demographic that hasn't been very active yet in municipal elections, but it would interesting to see if they offset the traditional vote."
Edwards told the Banner that her campaign focuses not only on local issues, but larger social justice goals that "are a part of a greater movement that millennials are attracted to."
Recently, Charlestown resident and former opponent in the city council race Jack Kelly endorsed Edwards, which could help her capture more of Charlestown's votes.
Former candidate Farmer has also endorsed Edwards. With Edwards' lead in East Boston partially offsetting Passancantilli's lead in the North End, Farmer's endorsement could give Edwards more of an edge if she is able to pick up Farmer's votes.
Edwards supporter Sarah Duncan, a North End resident who wishes to see less development blocking the waterfront, called Edwards a true public servant. She said, "For me, it's important to have women and people of color in power."