District 7 candidates debate at Islamic Society Ctr.
District 7 candidates debate at Islamic Society Cultural Center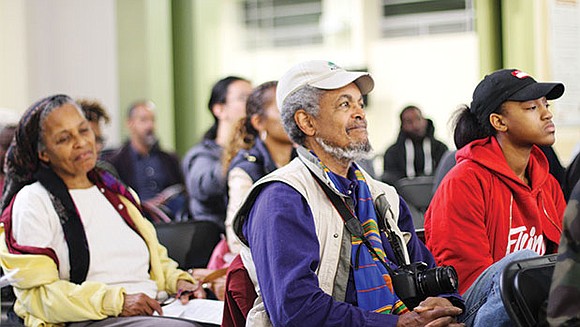 "That's what I've been doing and that's what I'll continue to do as the next district councilor for District 7," she said.
Faulk rebutted Janey's response, claiming that the quality of education in District 7 has been on the decline for the last 20 years, although BPS data do not support this claim.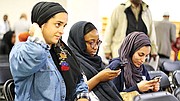 "You can't claim to be a leader in education policy and yet the quality of our schools has been on the decline," he said.
When asked how the candidates would ensure how district schools do not lose funding to charter schools, Faulk said he would work to make sure the state budget fully funds Boston schools.
Janey cited her record opposing Question 2, which would have raised the cap on charter schools, and advocating for BPS funding.
Asked how she would ensure there's funding for youth summer jobs, Janey said she would make such jobs a priority and also pressure locally-based corporations to provide summer and year-round jobs.
Faulk said his first job was through the city's former red shirt summer jobs programs. He said he would conduct an assessment to find out what the actual demand is for summer jobs.
Asked what she would do to make sure District 7 residents have access to good-paying jobs, Janey cited the importance of raising the minimum wage to $15 an hour through the Fair Share Amendment ballot question, and emphasized the importance of supporting local businesses.
"They employ us," she said.
Faulk cited his solidarity with Northeastern University cafeteria workers, then took another dig at Janey, claiming that the university is supporting her campaign, though he offered no proof — and universities, as nonprofit entities, are not permitted to make political contributions under federal law.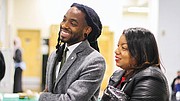 Campaign finance
The final question from an audience member was, "Have you received money from either developers and contractors looking to build in Roxbury?" The question seemed aimed at Janey, who has been targeted by opponents circulating an anonymous letter pointing out that her campaign has received donations from several developers.
"The short answer is no," said Rufus Faulk. "I'm not going to be bought off by people who are trying to displace us from our homes. My campaign is grassroots. Community-driven."
He said he has stood against the Rio Grande project, a residential tower proposal for Dudley Square by a black-led development team.
Faulk, who reported $1,175.37 in his campaign account as of the Oct. 15 filing deadline, has received far fewer donations than Janey, who reported a balance of $20,185.26. Janey acknowledged that donors included those involved in construction and real estate, but noted that they accounted for less than 5 percent of the funding she has raised, and that the developers are of the community.
"That less-than-five-percent [of donations] have been from black business owners from our community," she told the audience. "We talk about wanting affordable housing. Who builds that? Cruz Construction. They create jobs and employ people who look like us in our community. So I'm proud to have the support of Cruz."
Janey garnered 1,534 votes in the Sept. 26 preliminary, besting a field of 12 candidates. Faulk had 719 votes. The two will appear on the Nov. 7 ballot to replace outgoing District 7 Councilor Tito Jackson, who is challenging Mayor Martin Walsh.