Jackson, Walsh face off in final mayoral debate
Candidates clash on housing, policing, race issues
Karen Morales | 11/1/2017, 10:29 a.m.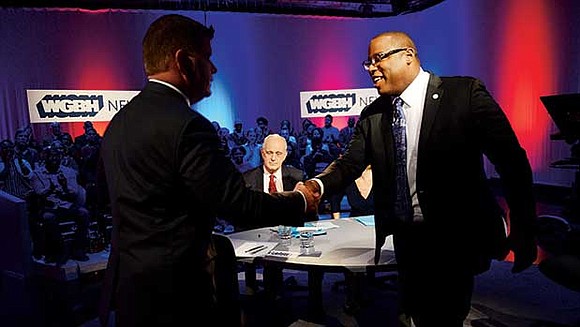 Jackson said the mayor's "respectful disagreement" with the NAACP's 218-page report that found that Walsh fell short in accomplishing campaign promises to increase educational outcomes, and provide employment, housing and public safety for communities of color, was dismissive.


There is a 33-year difference in life expectancy between Roxbury and Back Bay residents, Jackson noted, with people typically living to age 58.9 and 91.9 in each respective neighborhood.
A telling WGBH poll asked voters whether they think Boston is a city where their hopes and dreams can be realized. The results showed that 56 percent of white voters responded "yes," compared to only 33 percent of black voters.
"The NAACP report was a generational report," said Walsh. "That's failed policies by the federal government, by state government, and the city of Boston since I've been mayor, and before I was mayor."
He continued, "I have never backed away from the issue of race. We had the first town meeting in the city of Boston where a mayor talked about racism." He also noted his executive order last year to change the number of city-owned contracts and said 50 percent of public school educators hired since he became mayor are of color.
"I do not deny there are issues we have to deal with, but we are talking about generational issues here that my administration is tackling," he said.
Boston Police Department
Jackson said he would issue body-worn cameras and create a civilian review board to oversee the BPD, and modify the civil service exam to increase the number of officers of color in the Boston Police Department.
He would also eradicate the "biased hair test that gives false positives for short curly hair," he said, adding, "The city of Boston has spent over $1 million defending this test."
Walsh responded that Boston currently has the most diverse command staff in the history of the BPD and the most diverse cadet class.
However, he continued to dodge the question of body-worn cameras, stating that the pilot study conducted by Northeastern University will be released sometime in December and that "it's about building trust."
According to a WGBH poll, 78 percent of likely Boston voters are in favor of body cameras for police officers.
Jackson cited the lack of diversity in public safety jobs as another concern, noting that 75 percent new BPD hires are whites, as are over 90 percent of new firefighters.
Walsh stated that poverty has gone down 14 percent and arrests have decreased by 30 percent.
He pointed to his creation of the My Brother's Keeper program as a positive way to create opportunities for youth in Boston and keep them away from criminal activities.

Business Development
For Jackson, the $25 million tax incentive offered to GE was too much, and he would not offer any sort of financial incentive to Amazon, the giant online retailer looking to locate their second headquarters.
"I helped bring Google into Boston based on the workforce and locale that we have," he said.