Guscott's towering aspiration: 25-story Dudley Square tower to bring nightlife, business opportunities
25-story Dudley Square tower to bring nightlife, biz opportunities
Late developer Ken Guscott's dream of a soaring tower in Dudley Square took a step forward as the development team filed papers to begin a public review process with the Boston Planning and Development Agency last Friday. The 25-story Rio Grande Tower is expected to enliven the area with nightlife, new shops and commercial space. Members of the development team sat down with the Banner last week to talk plans.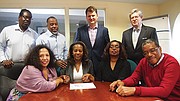 Jumpstart for Dudley
Lisa Guscott, who is leading the project, said her father, who died in March, envisioned that the tower would restore to Dudley Square the lively activity he remembered from his youth.
"He wanted to see [Dudley] come back to what it was before he went off to war in World War II," Lisa Guscott said. "Dudley was very vibrant."
Beverly Johnson, project manager, said the residential piece will ensure there is a critical mass of people out in the evenings to support night life.
"[It will bring] folks who are out in the shops in the evening, getting dinner, going to entertainment spots. You're talking about a Dudley with more of a 24/7 energy and dynamic, as opposed to an 8-to-5 dynamic, which is what you have now," Johnson said. "It's really going to transform the face of Dudley and make it more of a destination spot, not just for locals but at some point, also for tourists."
David Lee, of the project architects Stull & Lee, said in a Banner phone interview that he expects the units primarily to serve young people drawn by the easy transit access and proximity to employment centers, as well as older long-time community members looking to downsize to a home easier to maintain while staying in their community and near their family and social networks.

He echoed others in noting that retail and commercial space also will invigorate the area.
"It'll bring a lot of new activity to the square with robust retail activity on lower floors…[And] with over 200 apartment units, it'll have people coming and going all day and late into the evening, which, along with other activities, will energize that part of the city," Lee said.
Inside the tower
The tower will include 211 residential units (46 condos and 165 rental apartments); about 23,000 square feet of retail space, including banks already on the site, and 28,000 square feet of commercial office space, according to Tom Welch, financial advisor on the project.
The project goes beyond city requirements by designating 20 percent of rental units as affordable: Of the 165 rental units, 10 will be affordable to those making up to 80 percent of Area Median Income and 30 to those making up to 70 percent AMI. Of the 46 condos, two will be affordable to those making 70 percent of AMI and four to those making 100 percent AMI, Welch said. The affordable units all will be on-site and mixed among market-rate offerings, Johnson said.
Banks already there will remain, and new retail is expected to include cafes and shops, although no specific tenants are arranged yet, Lee said.