Thousands rally in Boston Common for Boston's public schools
Education activists call for more funding
Yawu Miller | 5/24/2017, 10:55 a.m.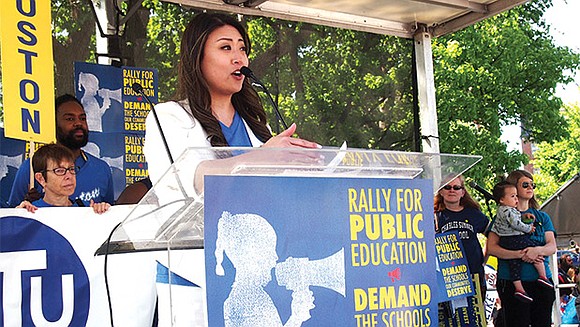 Last November public education activists fended off Ballot Question 2, which would have lifted the state-wide cap on charter school expansion and diverted funds from local school districts. Saturday, many of the same activists who fought for a "no" vote were among the estimated 4,000 people who turned out to the Boston Common for the Rally for Public Education event, sponsored by the Massachusetts Education Justice Alliance.
Massachusetts Teachers Federation President Barbara Madeloni underscored the boost education activists received from last year's ballot question battle.
"I sometimes like to say that I want to thank the "yes" campaign for bringing the fight to us because it gave us the opportunity to build the movement that you see here today with the Mass Education Justice Alliance," she told the Banner.
Although groups supporting charter schools have held rallies on the Common and in other public spaces in Boston, Saturday's rally was the first in recent memory held in support of public education from pre-kindergarten through college.
The state legislature made major investments in K-12 education with the 1993 Education Reform Act. But education activists say state education funding has not kept pace with the rising costs school systems face. Madeloni said last year's battle may have set the stage for advances in education policy this year.
"We won Question 2 by a landslide. We got there by having thousands and thousands of conversations," she said. "So the process of getting to November 8 and our victory awakened people. People were really interested. Trump's victory awakened people to say we can't be passive in the face of what's happening as our communities are being undermined and our public schools are being undermined. It's an interesting combination of hope in the midst of this tumultuous moment that there's actually an opportunity to fight."
During the rally, activists circulated petitions supporting legislation filed by state Sen. Mike Rush, a West Roxbury Democrat, that would increase state funding for K-12 education by $2 billion over several years, place a three-year moratorium on standardized testing and mandate recess for all grade-schoolers.
Boston Teachers Union Organizing Director Jessica Tang said funding remains a critical issue for Boston's schools.
"The funding issue is constantly there," said Tang, who is running unopposed for the presidency of the BTU. "I know people are tired of hearing about funding, but the honest truth is we have never actually fully funded our schools. We never at any point in time in our history have actually had a librarian, a music teacher, phys ed teacher, a social studies teacher, a full-time nurse in every school in Boston."
Taking to the stage, Tang fired up the crowd.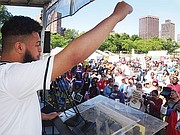 "We know from this past fall that when teachers, parents, students, community members and labor come together and fight for public education, we win," she said. "And continuing this fight has never been more important and more timely."
While funding increases may be on the horizon for Massachusetts schools, Tang and other speakers expressed concern about the soon-to-be released Trump administration budget, which likely will contain cuts to human services and incentivize charter school expansion and voucher programs. Although Massachusetts state law prohibits the use of public funding for private schools, the Trump administration's focus on vouchers will likely mean cuts for traditional public schools.