Myechia Minter-Jordan
5/19/2017, 6 a.m.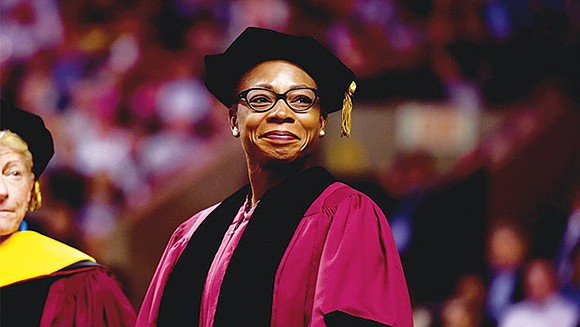 Myechia Minter-Jordan, President and CEO of The Dimock Community Health Center, was among a distinguished group of influential figures to receive a Doctor of Public Service honorary degree at Northeastern University's 115th commencement for her visionary leadership of The Dimock Center, transforming it into a national model for health and human services.
Minter-Jordan is a graduate of Brown University School of Medicine and Johns Hopkins University Carey School of Business, with an MBA in health services. After graduation, she joined Johns Hopkins Medical Center as an attending physician and instructor of medicine and subsequently as director of medical consultation services at Johns Hopkins Bayview Medical Center.
The Dimock Center, the largest employer in Roxbury and the second-largest health center in Boston, is considered a national model of comprehensive health and human services with an emphasis on the integration of clinical and behavioral health practices. The Dimock Center reaches more than 17,000 people annually through comprehensive health and human services.