Hearing focuses on Boston Public Schools' struggles with transit costs, appealing meals
Steep price tag for school choice, charters, special education door-to-door pick up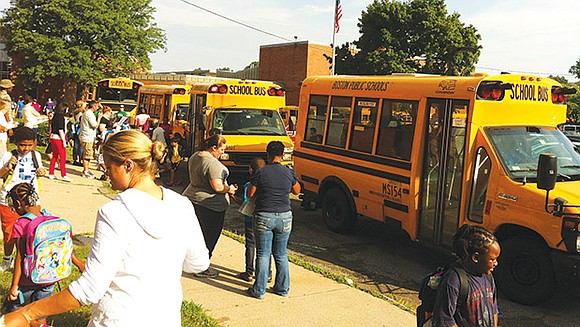 A small portion of students account for the majority of the expenses. Students served by door-to-door pick up comprised 11 percent of all yellow bus riders in Fiscal Year 2017, but 37 percent of the transit costs, according to BPS data. Charter students are 11 percent of riders but 13 percent of costs. The approximately 1 percent of students were transported to parochial schools comprised 2 percent of transit costs. The less than 1 percent of students transported to private special education placements constituted about 7 percent of overall costs.
Meanwhile, transit for about 66 percent of students comprises only about 20 percent of costs, Hanlon said.
Home-based system and BuildBPS
Some savings are on the horizon, but still many years off. When BPS switched to a home-based system, most newly-enrolling children signed up for schools near their homes. With more children no longer qualifying for bus service, BPS has a greater opportunity at saving on transportation. This move, and requiring grade 7 and 8 students to use the MBTA, has reduced some costs, Hanlon said.
However, students who already were attending a school when the home-based system was launched were allowed to continue at their current location, and their siblings are allowed to attend the same schools when they turn of age. As such, BPS will not fully enjoy the transit ease promised by neighborhood schools until the grandfathered in students and their siblings (some of whom still may not yet be in school) graduate from high school or transfer out of BPS.
It takes a critical mass of students switching off bus use to allow for dropping a route, and its associated cost. Even if only one or two students attend a far-off school, BPS will have to pay for a vehicle to take them there, although the bus potentially can share transport to other schools along the way, should start times and routing allow. In some routes where ridership is very low, it can cost $70,000 to $80,000 per child to run a bus, Hanlon said. Some parochial schools have between one and five students on a bus at a given time, according to BPS.
Some easement also may come from BuildBPS, the facilities plan that was created with a consideration of investing in buildings in areas where the surrounding population is expected to grow, Hanlon said. Investments also may make the schools more attractive to children who already live nearby but currently choose not to attend, he said.
Don't save the seat
Hanlon is putting some hope on encouraging parents who typically provide other transit for their children to opt out of a bus seat. BPS officials estimate that 30 percent of bus seats are provided (and paid for) for children who regularly do not use them. Hanlon said he expects parents do this to keep a back pocket option in case of unexpected disruption to their normal routine. However, he said, bus drivers are informed to accept any ridership of any student, even those not on their list. Students also may opt back in to the bus system, although currently it takes about a week to update lists, a lag BPS seeks to reduce.