Divisions in political base present challenge for Walsh in Boston mayor's race
Interests of police unions, Trump supporters, black voters at odds
Yawu Miller | 5/17/2017, 10:21 a.m.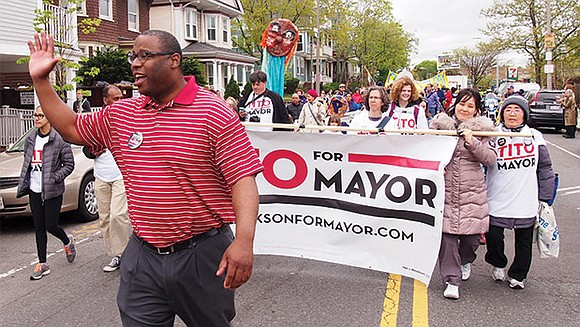 Bob Marshall, a retired teacher who hosted a meet-and-greet for Walsh during the 2013 election, said support is waning for the mayor among members of the Black Educators Alliance of Massachusetts, a group that gave Walsh a failing report card in March.
"He's a nice guy," Marshall said. "I wish him well. But it's time for a change."
Black vote is key
Walsh's 2013 upset victory against former at-large City Councilor John Connolly exposed fault lines in Boston's electoral map. While Walsh's support in the Dorchester base where he has been politically active for much of his adult life was solid, Connolly boasted strong support in his base in voter-rich West Roxbury, where he garnered 60 percent of the vote, and in wealthier areas like Ward 5 in the Back Bay/Beacon Hill area, where he won 76.7 percent of the vote.
For Walsh, the path to victory was through the city's black and Latino communities, where endorsements from virtually every black elected official as well as several unions with large black and Latino memberships helped Walsh win nearly 60 percent of the vote in predominantly black and Latino precincts. That margin of victory among the city's 43,000 black and 55,000 Latino voters was key to Walsh winning the mayor's race by three percentage points.
For Jackson to mount an effective challenge against Walsh, he would have to hold down a base of support in Boston's black and Latino communities. So far, he's banking on his strong defense of Boston's schools, voters' dissatisfaction with the skyrocketing cost of housing in the city and his opposition to the city's 2014 Olympics bid, which Walsh backed.
"He's always been supportive of the Boston public schools and has been supportive of the children of Boston," said Kristin Johnson, a Jamaica Plain parent activist who held a meet-and-greet for Jackson recently. "I think support is strong for him here in Jamaica Plain."
Walsh seems as if he's working again to win over black and Latino voters. On Tuesday, May 2, the date the city's Election Department released nomination papers, Walsh was in Dudley Square greeting voters as he and his volunteers were en route to collecting more than 12,000 signatures — four times the number he would need to secure a slot on the ballot. That same day, Jackson's campaign collectined more than 3,000 signatures.
Contradictions
The unions representing patrolmen and detectives on the city's police force will likely back Walsh, given his administration's February settlement of contract negotiations — including an 8 percent pay raise. Walsh received $30,000 in campaign contributions from 70 police officers in the month following the contract settlement.
Whether black voters will back Walsh remains an open question. If a civilian review board becomes a campaign issue, Walsh may face difficult choices. Then there's the issue of hiring officers of color. Although the city is more than 50 percent people of color, people of color are underrepresented among military veterans to whom the Civil Service gives a near absolute priority for hiring. The Walsh administration and police unions are in favor of keeping the Civil Service exam as a requirement for police hiring; many blacks are not.
In the housing arena, Walsh's record is mixed. His administration's aggressive housing production targets — 50,000 new units by 2030 — have translated into a bonanza for the building trades and developers of luxury housing units, yet as the mayor himself noted during his visit to Dudley Square, affordable housing and displacement remain top issues for black and Latino voters.
Walsh's stands against the Trump administration's anti-immigration and anti-Muslim executive orders and the headlines they generate may score him points with liberal voters, but given that his base overlaps so neatly with the axis of Trump support in the city, the anti-Trump rhetoric probably won't do much to energize his strongest base.
By many accounts, the race is Walsh's to lose. But keeping his base together amid the growing economic and political pressures this year may prove impossible.