Savvor serves up Southern and island comfort in Boston's Leather District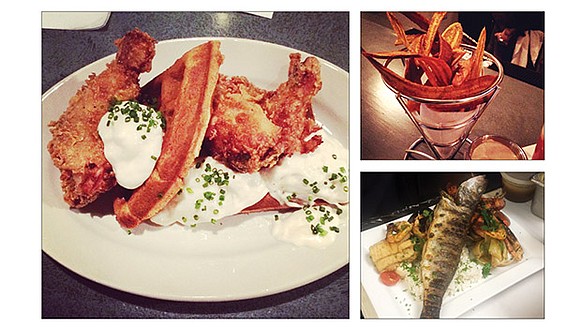 A versatile space
With 2,000 square feet, the high-ceilinged 145-seat restaurant contains a main dining area and a smaller room that can be reserved for more intimate parties. A large lounge area contains two bars, banquette seating, a sound set-up for live music and DJs, and room for dancing.
Savvor draws a diverse range of customers on any given night, Firmin says.
"It varies. We have a 70th birthday party scheduled soon. We'll have younger people who don't show up until 11 o'clock. All kinds of people feel comfortable here," he says. Downtown-area professionals will pop in for a post-work cocktails or dinner. Others come in for dinner dates, nights out with friends, or family celebrations. Music lovers stick around for live music or DJ-spun tunes in the lounge, open until 2 a.m. Dinner is served until 10 (10:30 on Saturdays), with a smaller late-night menu offered until midnight.
Success has not been a straight line. Firmin and his staff went "back to the drawing board" a few times to adjust the menu when dishes they thought would be great didn't hit the target with the typical customer. A chicken and quail dish was simplified to chicken and waffles, for instance. Little by little, they distilled their ideas into a menu that Firmin believes hits the mark in being simple, authentic, made from scratch and tasty, at a reasonable price. (Entrees range from $15 to $24, and side dishes from $4 to $8.)
The name, pronounced "Say-vor," is meant to bring to mind the concept of savoring the food, the moment and the atmosphere, in different languages — savor, sabor, saveur. The double-V turns the name itself into a conversation-starter.
Savvor has 12 employees, most working part time. Firmin has two cousins as business partners, but he functions as the "face" of the business. He estimates he is at Savvor 95 percent of its open hours. Most nights he is shaking hands and chatting with diners and performing tasks from serving drinks at the bar to answering the phone and busing tables. General Manager Courtney McCall, who previously managed at Boston Harbor Hotel and No. 9 Park, has been on the Savvor team from the start.
Firmin feels the business provides opportunities for the community, with monthly art exhibits showcasing the work of local artists, and the live music offering exposure to up-and-coming local musicians. Future goals include continuing to grow the business and being recognized as a welcoming place with high-quality food, and eventually being able to open additional locations.
After three years, owner Firmin is by no means feeling settled or bored. Hard work and long hours notwithstanding, he continues to savor the satisfaction of business ownership.
"I like that you plant a seed, you wait for it to grow, and you have to nurture it while it's fragile," he says. "The journey is what drives me, watching the seed growing into something."